5 Reasons to Use Informal Assessments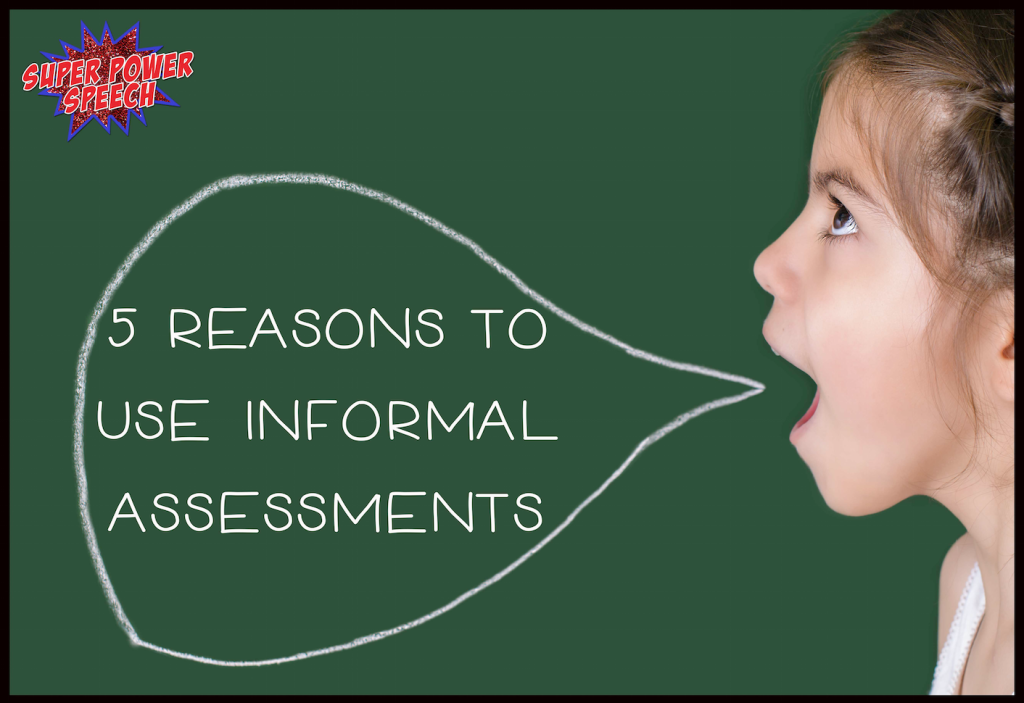 I have to admit that I inherited pages and pages of probes (aka "drill and kill" lists) when I started at my school 14 years ago. There seemed to be one or more for every language concept imaginable. I tried to use them a few times, but they took over multiple sessions and I never felt like the data gave me good information. So I abandoned them and finally recycled them last year. In the meantime, however, the state and district have been pushing for data, numbers, progress, proof. They've also been putting more and more pressure on aligning everything to the Common Core. Initially, I was extremely hesitant. I felt like the Common Core was designed for classroom teachers, not for me. And although I still haven't drunk the Kool-Aid, I feel like I have some good tools to help me in that direction.
I have, however, switched my position on probes and informal assessments. I realized that it was not that probes are a waste of time, it was that the particular probes that I had in my room were a waste. I am now using informal assessment with all my language students and some of my social skills students. Here are five reasons why you too should be using informal assessments!
1. Pre and Post Test Data
Informal assessments provide a easy and data driven way to show if a student is making progress. When given before and after an intervention, these can provide invaluable information about whether RTI is effective for a student.
2. Present Levels
Present levels for report cards or IEPs have been my bane for years. Although I have data from therapy sessions, the data tends to go up and down depending on the day and the exact activity. Informal assessments provide solid, one point in time data. When the same assessments are given to multiple students, they provide information about variations of progress.
3. Screeners
Informal assessments are fantastic ways to do an initial screening for language disorders. When the assessments are aligned to Common Core State Standards, it is easy to see if a student is at/near grade level or not in speaking, listening, and language.
4. Goal Development
When informal assessments have clear targets and are aligned to CCSS, they almost write the IEP goals for you. It is easy to see exactly the areas that are the weakest and that need to be focuses on for the upcoming IEP year.
5. Flexibility
Unlike standardized assessments, informal assessments are flexible. If a student truly does not understand the task, the clinician can spend more time explaining or giving examples. The exact same assessment can be given on a different day if needed. I love the flexibility so much that when I am doing a three-year re-evaluation, I do both formal AND informal assessments before writing my report.
What do you think? Do you use informal assessments? What do you like or dislike about them?
Because my students have all gone through my "Language Informal Assessments" last year, I needed to make a new batch for them to keep them on their toes! Levels 2 and 3 have some variations of targets, but all focus on the same major Common Core Standards. And, like the original, you can type directly into the pdf AS you are giving the assessment so it it ready to print within minutes of completion (Can I get a  "Woot! Woot!").
"Language Informal Assessment #2" provides the SLP or educator an informal (non-standardized) way to compare a student's language skills to the Common Core State Standards. The assessment typically takes 15-20 minutes and can be used as part of a full-evaluation, or to measure progress over time. All questions are directly related to the common core, including:
SL.2: Recount or describe ideas or details from verbally presented materials
SL.3: Ask and answer questions
SL.4: Describe familiar people, things, and places
SL.6: Express ideas clearly
L.1: Use correct grammar
L.5: Determine and clarify meanings of unknown and multiple-meaning words.
L.5: Understand word relationships
"Language Informal Assessment #2" is a unique assessment because it assesses students at their current levels and can be also used to compare to the grade level standard.
Level 1 (Kindergraten-1st grade CCSS level)
Level 2 (2nd-3rd grade CCSS level)
Level 3 (4th-5th+ grade CCSS level)
Watch as my daughter and demonstrate the awesome power of this tool:
Get your copy here!
Looking for more Informal Assessments? Check these out:
Language Informal Assessment (original)