Super Power Speech is a blog to emPOWER speech pathologists and educators with ideas, materials, and inspiration in their professional and personal lives.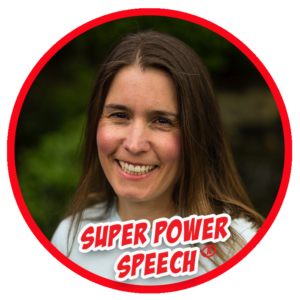 I began Super Power Speech in 2008 as a blog to connect with parents and speech pathologists, making this blog one of the longest running blogs for SLPs in the world! Here you'll find hundreds of posts of speech ideas and inspiration. I have also developed popular materials for speech pathologists and educators in my Teachers Pay Teachers store.
My goals for this blog include:
To educate speech pathologists on current therapy topics.
To make the lives of educators easier by creating high quality materials to use in the classroom.
To provide easy to follow lesson plans to help speech pathologists with organization.
To engage other book lovers in fun and meaningful book discussions.
To track my journey through this decade of life.
Achievements:
Presentations:
"How are SLPs Using Social Media" – 11/2014
CEU presentation for the Hello Foundation
"Social Media Resources for Today's SLP" – 11/2014
CEU presentation for the Hello Foundation
"Get Ready for School in your Swimsuit" – 6/2016
Online presentation
"Online Tools to Simply the SLP's Life" – 07/2016
Online presentation
"Differentiating for All Learners" – 07/2016
Presentation at national Teachers Pay Teacher Conference
"The Role of the SLP in the Schools" – 05/2017
Presentation for Portland State University
"Pragmatics and the SLP" – 06/2017
CEU online presentation for Heartland Therapy, Phoenix, AZ
"Maximize Time & Effectiveness with Routines" – 06/2018
Podcast on speechtherapypd.com
"Using Children's Literature in Speech Therapy" – 07/2018
Presentation for speechtherapypd.com cruise
Featured in:
Nominations:
"Your blog posts are some of my very favorite to read. Thanks so much for sharing much needed, comprehensive information with each post. I know when I open your blog, I'm going to get helpful information and resources every time. Your work is very much appreciated." (Reader Kari)
Are you ready to hone your own super powers? Join 16,000+ other email subscribers in getting freebies, tips, and engagement in a super community!
⭐️⭐️  SUBSCRIBE HERE for access to my library of free speech materials.⭐️⭐️
Let's develop our super powers together!
Click here for disclaimers, privacy, and legal information.