The Social Language Informal Assessment
I don't know about you, but my gut reaction when I have another child to evaluate with a possible eligibility of social language disorder, is "Oh no! There are no good tests for me!" I know that there are standardized tests that look at "idioms" or "pragmatic judgement" within the context of other language tasks. However, I have yet to find a standardized test that really looks at the nuances of social language and pragmatics, and understandably since this would be almost impossible to standardize!
In my district, we add "Informal Speech/Language Testing" to the list of tests given to students when looking at social language disorders. But that leaves it up to each clinician to decide what they are going to do and how they are going to score these tests.
About a year and a half ago, I wrote this blog post, which I have used for my evaluations for quite a while:
But this year with three ASD evaluations in the works and several more to come in a few months, I realized that I wanted something right at my fingertips. No looking up websites. No Pinterest hunting. And NO extra report writing!
I synthesized the information from the "Functional Communication Assessment" blog post and made my own informal assessment. Here's what I love about this new assessment:
It directly relates to the goals that I usually write.
It includes real-life pictures of facial expressions.
It includes social problems.
Two different theory of mind tasks are included.
It is divided into two separate informal assessments: one for K-2nd graders, and one for 3rd-5th graders.
If you open the "Record Sheets" in Adobe Reader and transcribe the assessment results as you go along, the final report is literally generated for you (ah, the power of auto-populate!)
Take a look at this!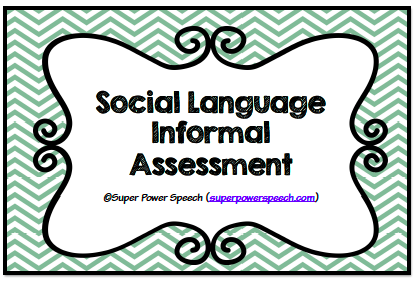 Both K-2nd and 3-5th have 5 printable pages. You can put these in sleeve protectors and use them over and over.
There are separate Record Sheets for K-2nd and 3-5th. These sheets include both the directions and fill-able text boxes. Type in the student's responses as you go along.
K-2nd evaluates:
Story retelling (Cinderella)
Inferring information from a story
Theory of mind
Identifying and explaining feelings
Social problem solving
Paralinguistic and pragmatic observations
3rd-5th evaluates:
Story retelling (The Crow and the Fox)
Inferring information from a story
Theory of mind (more complex tasks)
Identifying tone of voice and sarcasm
Social problem solving
Paralinguistic and pragmatic observations
And here. Here is the part of this informal assessment that I am most proud. The 3 page summary is auto-populated by the scores and strengths/weaknesses that you have already inputted during the testing! The only thing left to add is name and date. There is an optional 3rd summary page to synthesize your results or add in information from other testing.
This awesome tool will make evaluations for social language disorders so much easier! What a relief as I go into an evaluation heavy year!
Get your copy here.