A good dad vs an amazing dad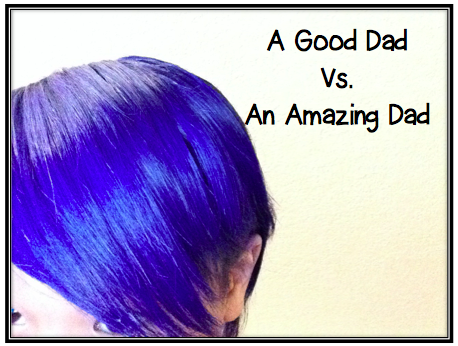 It is very hard work to be a good dad under any circumstances. But when you are literally crippled by pain day in and out for years, hazed by medical conditions, and unable to work or even sit for more than an hour, it is REALLY difficult.
And yet, even with all the cards stacked against him, Professor X is a truly amazing dad.
1. A good dad, walks by your side…
An amazing dad carries you on his wheelchair.
2. A good dad wants you to know about the awkward life topics…
An amazing dad actively brings up tough topics (birds/bees, religion, prejudice) at the dinner table on a regular basis.
3.  A good dad supports your freedom of expression…
An amazing dad expresses himself along side you.
4. A good dad buys pizza…
An amazing dad gets out of bed to make homemade pizza every week!
5. A good dad reads with you…
An amazing dad learns with you.
6. A good dad gets up in the middle of the night when you are scared…
An amazing dad stays up all night on the couch and waits for you.
Professor X is truly an amazing dad under terrible circumstances.