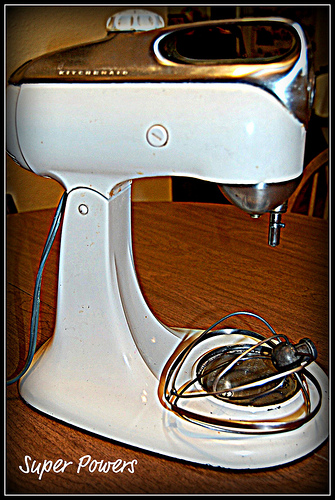 Oh Kitchenaid I love you, you're the best
My mixer certainly passed the test.
40 years old, it made cookies so sweet,
With this old machine, daily a treat.
Then tragic event, I dropped the glass bowl
They said "No replacement for it's soul".
So to ebay I went for a replacement
Shocked that at $100 they went.
For 9 months I lived without power
At Christmas I got a check shower
To Craigslist I went with cash in hand
And learned "gently used" is in high demand!
I scored on my "new" machine of fun
And brought it home for its trial run
Only to learn the bowl, shiny and sleek
Actually fit on my grandma's antique.
So now I question what to do
Cause working Kitchen Aids, I do have two.
One vintage, heirloom, and with no book
One sleek, like-new, and with a bread hook.