I'm guessing that I am the only one in this situation, but I find that I spend a LOT of time trying to coordinate people's schedules. I have to propose several possible dates for each meeting that may involve: the teacher, the special education teacher, the Occupational Therapist, and the school psychologist. All that is before I can even contact the parent!
The email threads that I have to coordinate these meetings are often 18 emails long. They are overwhelming to say the least.
My co-worker found a awesome website called doodle.com. From this site,  you can create a poll and nicely coordinate everyone's schedule! And it's free! And you can even synch it to your calendar for easy looking up of possible meeting times!
First you write down the event's name:

Then you click on different times on the calendar that are "proposed times". Since I linked my google calendar to the site, I can easily see what other things are going on and schedule around them.


Then add the email addresses of people you want to invite:



The email recipients will get a poll and they can click on the times and dates that work for them: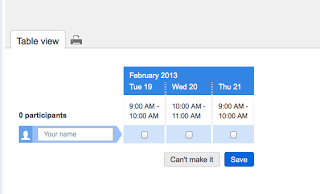 And this is the view that you get with the results:


Isn't that awesome! Then I know the dates that work for different people and can finally call the parent.
Have you tried doodle.com before? Or do you have another great way to schedule large meetings?