Ever since I created my Jack and the Beanstalk Dynamic Assessment/RTI Unit, I have wanted to do more. But I've been struggling and struggling with the fairytale to choose. At last I decided on a story, but then I didn't have the time to actually create the unit.
The pressure has been on, however, because I have 4 elementary students with low-language skills and English as a second language who need informal assessments to measure progress over time. And I have to start testing these kids THIS week.
So, here it is (insert cheering)! The Three Billy Goats Gruff unit for measuring response to intervention. The story (written by yours truly) is quite simple and the assessment areas and interventions are narrative retell, vocabulary (simple nouns and adjectives), and basic concepts (prepositions).
Here's what it looks like:

Story and pictures to go with the story:
 
Narrative Assessment:
Transcription page
Story Comprehension Questions
Story Retell Rubric

Vocabulary Dynamic Assessment:
Expressive Vocabulary
Receptive Vocabulary
Vocabulary cards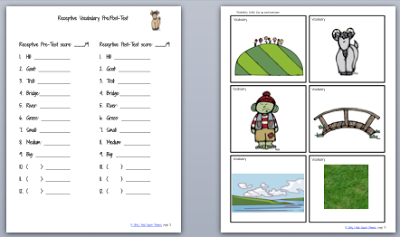 Basic Concepts Assessment:
Expressive Basic Concepts
Receptive Basic Concepts
Basic Concepts Scene
Characters for Basic Concepts

Interventions for each area that the student struggled with on the Pre-Test. Practice 2-5 times before doing the Post-Test with the student.
Narrative Interventions:
Sequencing Pictures
Puppet Show Pictures
Puppet Show Scene
Story Comprehension Cube Game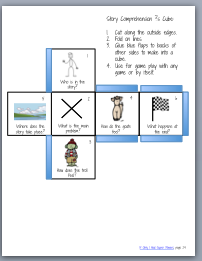 Vocabulary Interventions:
Vocabulary Picture Cards for matching games
Vocabulary Game
Vocabulary Drawing Activity
 

Basic Concepts Interventions:
Find It Game Prompts
Find it Game Pictures

Barrier Game Scene
Barrier Game Pictures
(You can download these FREE by clicking on on "Download Preview" here)

Scores and Considerations to help guide your decisions towards more intervention and/or assessment: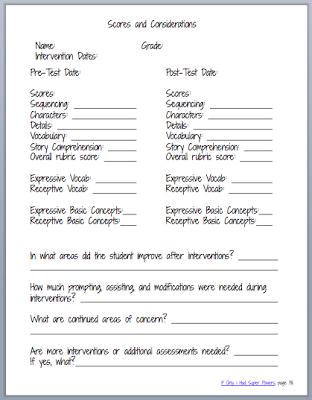 I can't wait to start using this unit this week! Hope you enjoy it as well! Go to my TPT store to get it now.
Looking for Dynamic Assessments/RTI for students with slightly higher language skills? Check out my Jack and the Beanstalk Unit!