Circle Time in a Minimally Verbal Classroom #3
All long time ago and very, very far away from my current location, I got my first job as an SLP. In addition to many students in the general education setting, I served two severely impaired classrooms. In one class, the students spent much of the day on side liers being tube fed and given cause/effect buttons. This class had me stumped. I did not know anything about working with this population. But this class also intrigued me…so much so that several months later I moved 3000 miles away and did a one year (almost unpaid) internship at a hospital learning AAC.  And then I went back into the school system and worked with self-contained classes, but never as severely impacted as those first classes that I had. This year that has changed.
I have a new class of students this year. These students  are completely non-verbal. Some are blind, one is deaf, all but one are severely orthopedically impaired. With these students I work on visual and verbal scanning and simple communication devices and we are working on some higher tech AAC in trial mode.
Who is here today
Goals:
Social greetings
Self identification with photo and/or written name
Timing with single switch VOCA (voice output communication aid)
1. I start circle with a little chant. For some students, present each student with their picture (using an eye gaze board). For others, I verbally present a choice of two names and they must hit the Big Mack saying "I'm here" when I state their name. Each of these students needs the Big Mack to be a different position: elbow, pointer finger, side of head, high above head.
2. Mobile students go to the board and put their name tag on "I'm in school".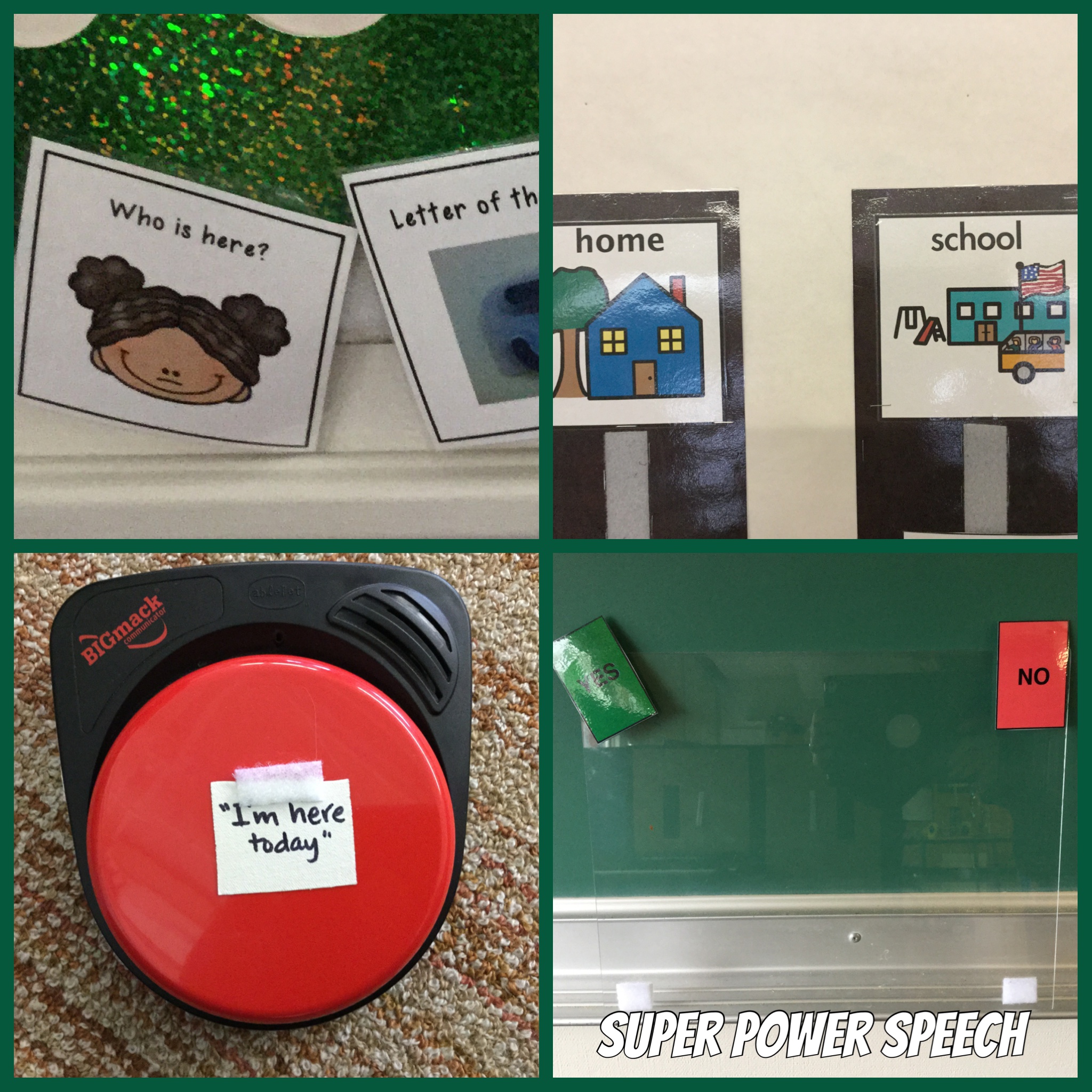 Letter and Word of the week
Goals:
Group participation
Vocabulary
Auditory/visual scanning for choices
1. Student press the letter of the week (with help or independently). I ask some students to use an eye gaze board to tell me if they want to press the letter today. Although the alphabet toy that I use is no longer sold, (Amazon affiliate link) this looks a good alternative.
2 We sing the alphabet song. A few individuals in the class indicate that they want to press the letter (usually with help) with a look or gross motor gesture.
3. After the alphabet song, the students take take turns in the bag of goodies that start with the letter of the week. Each student is present with two choices. The students with visual skills are shown the items and asked to look at the one that they want to hold. The students who do not have vision get to touch the items and then are given verbal choices. They are working on pressing the Little Mack "That's the one I want" to indicate preference.
4. We talk about the Core Word of the Week and use the file folder activity to practice using the word.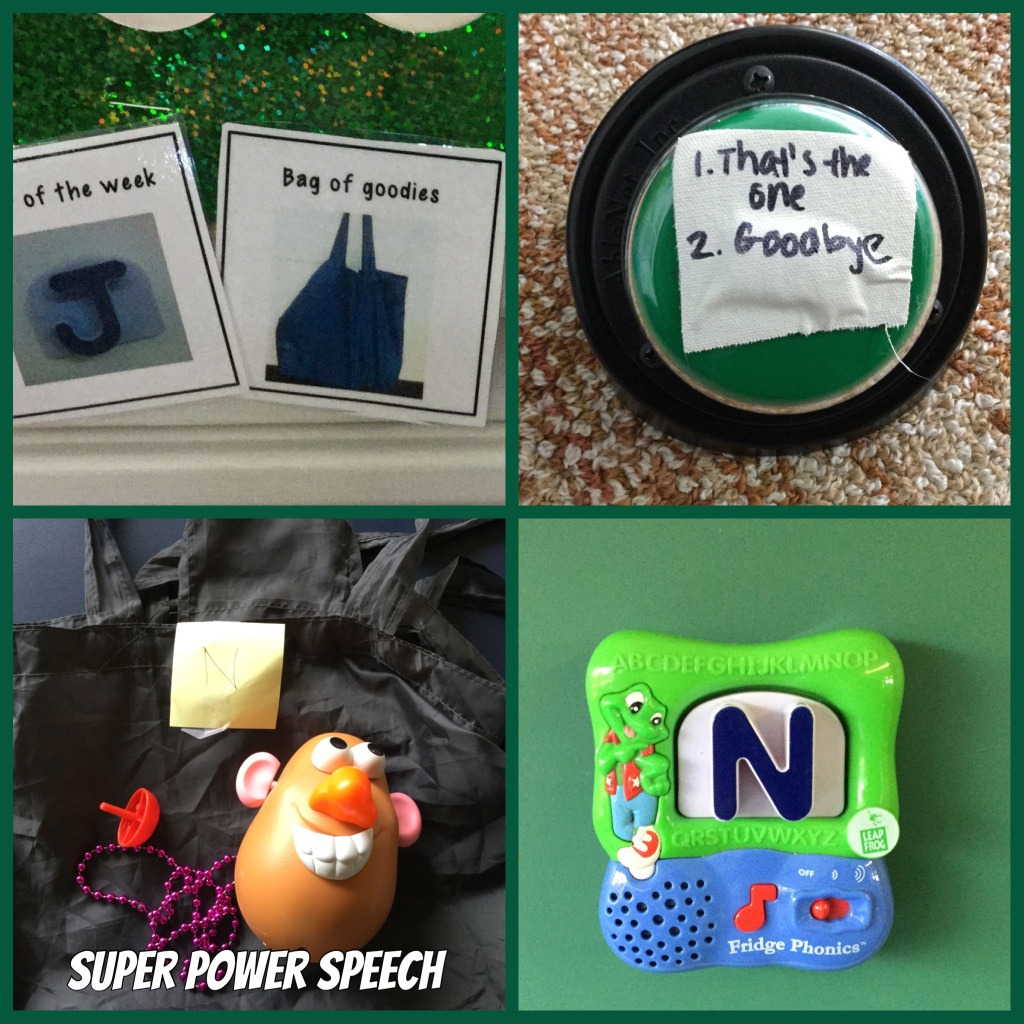 Song
Goals:
Group participation
Visual/verbal scanning for choices
I choose the  Alphabet File Folder Song  that on the  letter of the week. Some students students are given 2-4 choices on an eye-gaze board, while others listen to me present 2 choices and then work on pressing "That's the one" button.  The beauty to this activity is that it is errorless. All of the song verses work just as well as each other so all students can be successful regardless of ability level.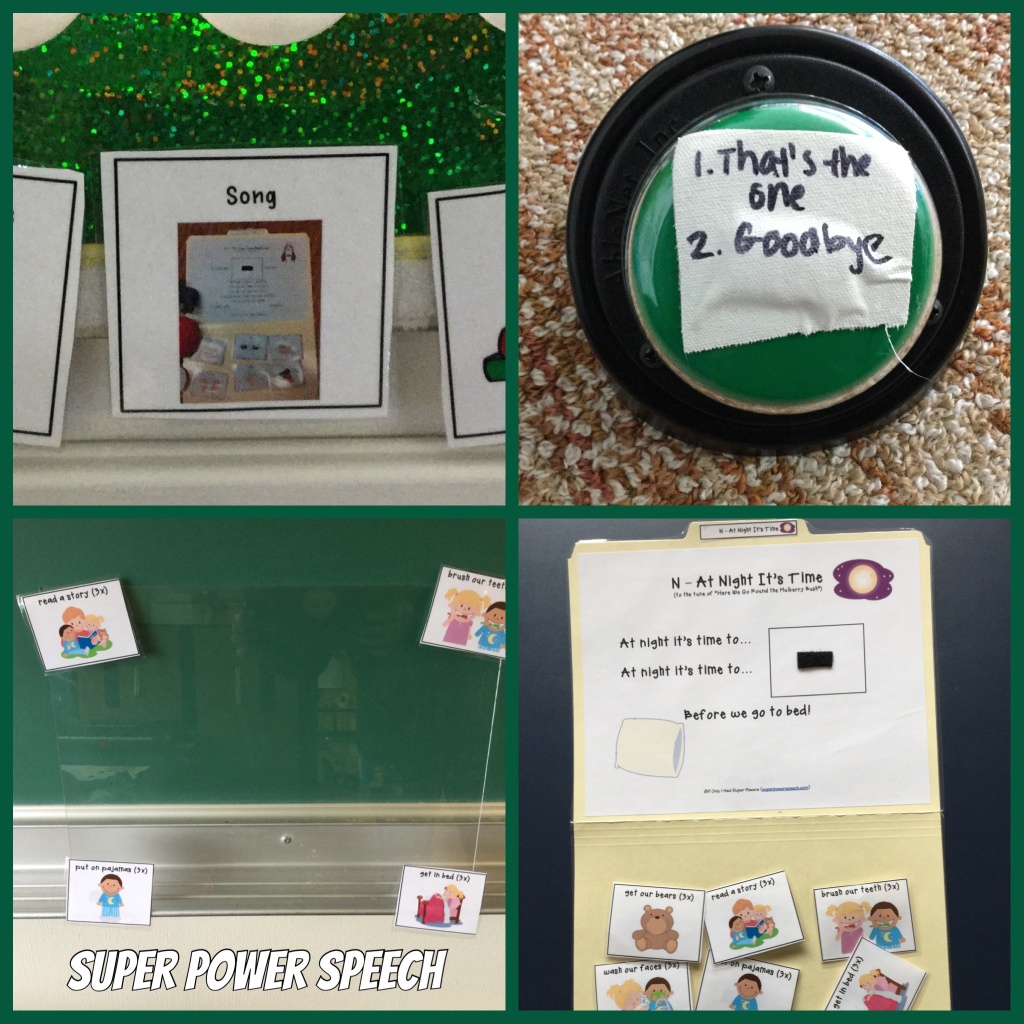 Story
Goal:
Listening comprehension
Participation
Next,  we read the Alphabet Book of the week on the iPad. The students with some fine motor skills help "turn the page". One of the students works on answering comprehension questions with the eye-gaze board after listening to the story multiple times.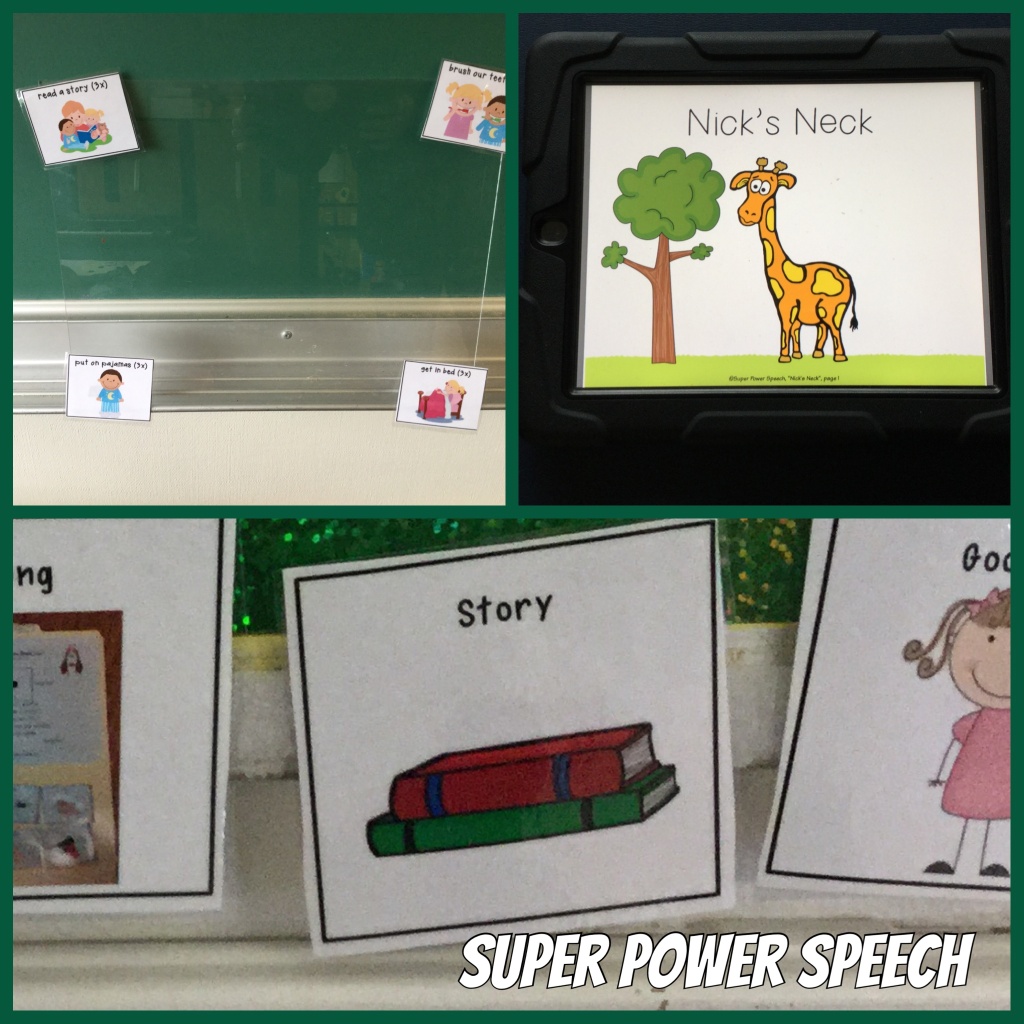 Goodbye
Goals:
Social skills
Participation
Appropriate timing of using the VOCA
We end circle with a goodbye song. Each student is then asked to say "Goodbye" using the second level of the Little Mack VOCA. The timing is important for this activity as some of the students are very tactically defensive and don't want to touch the button, whereas others slam it the instant that they see it (and a few throw it as soon as they can get their hands on it).
Circle time with non-verbal, visually/hearing/orthopedically impaired students… do you work with this population too? How do you serve the needs of the students?
Make sure to check out ALL of my circle time posts!