Believe it or not, I've already started working on what I'm going to be doing in speech in the fall! I've decided to go with a new room theme this year (insert shocked gasp!) and it is…..
Dragons, Princesses, and Knights, OH MY!
I'm even seeing if I can get a special half-apron made with this theme!
Here is a sneak-peak at the jumbo-sized posters that my amazing SLP-A started working on before school  let out…
And here are the regular size posters (8.5×11) that will be prominently displayed around my room soon: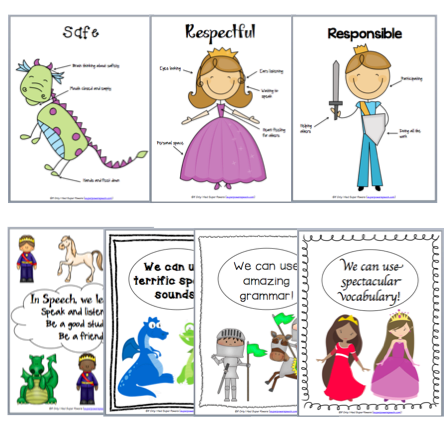 Here's how we will spend the first 1-2 weeks of speech:
Decorating "Speech Castles", on which students will draw themselves and their speech goals, and then tape up to the walls.
Completing the "Speech Books", in which students will draw or write important information about speech (such as the SLPs name, speech rules, speech goals, etc.).
Filling in the "Letter to Parents" and then bringing it home to help involve families in speech services.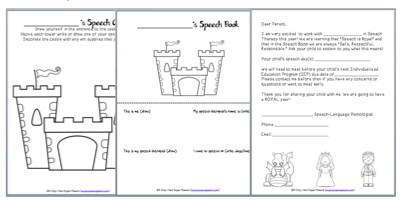 And (this is my favorite part!) here is how I will be progress monitoring students:
Using 2 page probes based on Common Core State Standards in Speaking/Listening and Language, there are spots for a beginning of the year pre-test as well as 3 progress monitoring probes later in the year.
The probes are beads on the same Royalty theme to keep consistent with other beginning of the year activities.
There are 3 levels of probes, divided as follows:Level 1 (for students working on K-1st grade CCSS goals)Level 2 (for students working on 2nd-3rd grade CCSS goals)Level 3 (for students working on 4th-5th grade CCSS goals)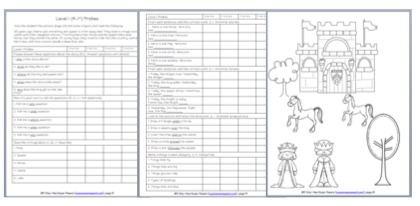 I hope you will consider purchasing this beginning of the year tool kit! Great for SLPs and students! You can purchase it here.