Summer is coming! Summer is coming!
But… I still have to get through a few weeks of June first.
Here are my June lesson plans. Hope you find some useful ideas!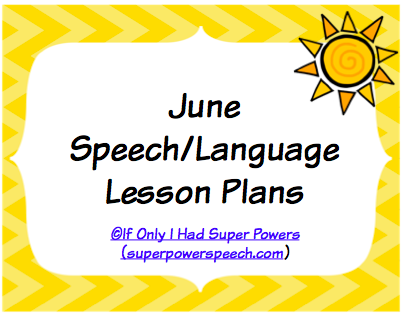 As always, these are divided into levels:
Language Level 1 (approx K-1st grades)
Language Level 2 (approx 2nd-3rd grades)
Language Level 3 (approx 4th-5th grades)
PreK (I will actually be using these with my high/verbal life skills students)
Social Language (all grades)
To go with these plans, I created a free worksheet to do on the last day of speech therapy: "My Super Year in Speech!" It thought this would be fun for kids to write or draw about what they learned and what they still need to practice over the summer! You can get the freebie here.
Articulation:
Not on my lesson plans, but these are the items I'll be using (and sending home for summer homework):
Summer Speech Club: Daily articulation practice for older students working on /l, r,  s, sh, th/ Tons of language learning fun, and carryover involved in these no-prep worksheets.
Mini Speech Club Summer: 8 articulation activities for each month with sound cards to go with almost all of your younger students' needs.
For my Language students, I will be sending home Speech & Language Homework for the Summer.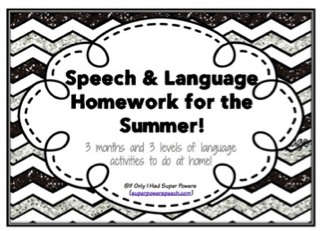 And my Social kiddos will get Social Homework for the Summer.