Kids need daily articulation practice
Have you ever worked with a student forever on one sound. That eleven-year-old who just can't master /r/? Or the ten year old with the continued frontal lisp? No, I'm sure you haven't!
Or how about this one… have you ever had a TAG kiddo who can perfectly make the /r/ sound in therapy, but drops it the instant she steps out of the speech room? And you are having a heck of a time placing her in a group with kids who are working on basic language and social skills? Nope? Just me?
The problem is that these are the kids who know how to make a good sound, but just need practice, practice, practice. Like thousands and thousands of repetitions to sink that motor memory into their muscles! But these are often the same kids who have been in speech since they were three-years-old and don't want anything to do with speech!
Since I'm hoping I'm not the only one who deals with these issues, I'm going to share a little secret program I developed a few years ago. (Actually, it's not a secret since I've blogged about it here.) It's called "Speech Club" and I've made it into a sort of "secret society" that you have to be invited into. The only thing we are missing is the secret handshake!
We meet before school starts each day for 5- 10 minutes. There are extra incentives that my other speech students can not earn (like candy at the end of each week). I become a daily presence and reminder in the lives of these students.
How does Speech Club work?
Students come to the speech room (or other designated location) for 5-10 minutes every day. I have worked it out with teachers that the students check in with their teachers and then come straight to speech in the morning before classes get started. It could also work to have students come for the last 10 minutes of the day or the 10 minutes before/after lunch.
Students find their speech folder and initial the calendar to show they are present. The SLP initials the calendar as well if the student has returned his/her homework.
Students begin independent work of the day, including underlining their targeted sounds, practicing in a mirror, practicing with another student, and practicing with the SLP.
Students return to class and practice with their teacher.
On Fridays the daily work is shorter so that points for the week can be calculated. I give 1 point for every day present and 2 points for every homework returned. I also give an extra incentive of a candy if the students were present 5/5 days that week. Points can be turned in for whatever incentive program is in place in the school or speech room. I use Speech Money for parties.
What do the kids do each day?
I'm such a word nerd that I've alliterated the daily practice exercises:
Monday: Mad Libs
Tuesday: Tic-Tac-Toe
Wednesday: Word Search
Thursday: Thinking about Words
Friday: Funnies (also Payday!)
Who is Speech Club designed for?
Students who can read and write. Usually ages 9+.
Students who have mastered their sounds in words (all positions).
Students who have the independence skills to get to Speech Club daily and are motivated to practice.
Students only working on 1-2 sounds.
What makes Speech Club different from other articulation worksheets?
Students practice independently at first and self-monitor.
Students monitor each other's sounds and initial the page to add accountability.
Teachers and families monitor the student's sound and initial the page (and I learn to recognize the handwriting of these people so I can tell when students are being honest!).
It is daily practice and homework.

Who loves it?
Everyone!
I love it because I get to quickly work with a bunch of kids without needing to squish them into my very-full schedule. Plus I get buy-in from teachers and parents.
Teachers love it because their students do not miss any core classroom work in the middle of the day.
Kids love it because they get daily attention, do fun activities, and earn candy and prizes.
Parents love it because they hope and pray their kiddo will finally graduate from speech.
And since I am sooooo organized this year, I finally have put together a program, instead of a mish-mash of activities!
Here it is… 3 months (September – November) of Speech Club activities for /r/ and /s/ (my most common sounds for this age group)!
This program (separate downloads for /r/ and /s/) includes:
Speech Club Rules (Print 1 copy and display on the wall.)
Speech Club Folder Cover (Print 1 copy for each student)
2 Calendars (with and without dates) (Print 1 copy for each student.)
Letter to parents (Print 1 copy for each student.)
Letter to teachers (Print 1 copy for each teacher with a student in the club.)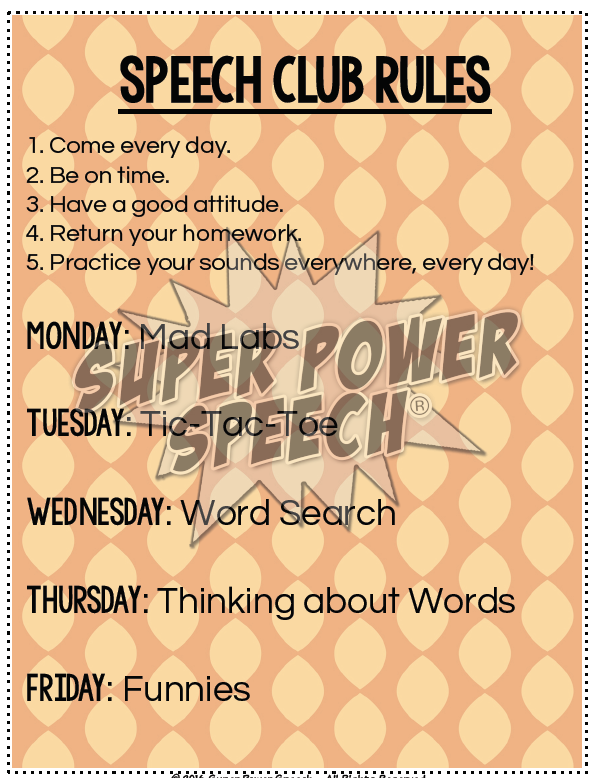 12 weeks of practice sheets in each: Mad Labs stories, Tic-Tac-Toe sentences, Word Searches, Thinking about Words, Funnies (60 pages total). These activities are unique for each sound /r/ and /s/.

Wait! Are you saying there are SIXTY (60) articulation activities AND homework?
Why yes. Yes I am.
And then what?
Well, if anyone shows interest, I'll make a Winter and then a Spring edition and make them available to you. If not, I'll just create more for my own use (and cry a little…).
Sounds awesome. How can I get this program?
I'm glad you asked! You can purchase  any of the following as bundles or as individual sounds /R, S, Th/:
Speech Club Fall
Speech Club Winter
Speech Club Spring
Speech Club Summer
In the comments below, tell me how you get your students to practice their speech sounds!
Looking for a way to encourage kids to practice daily? Check out this freebie!
Or do you need a program for younger students? Take a look at Mini Speech Club.