SLP Book Club: Hearing Impairment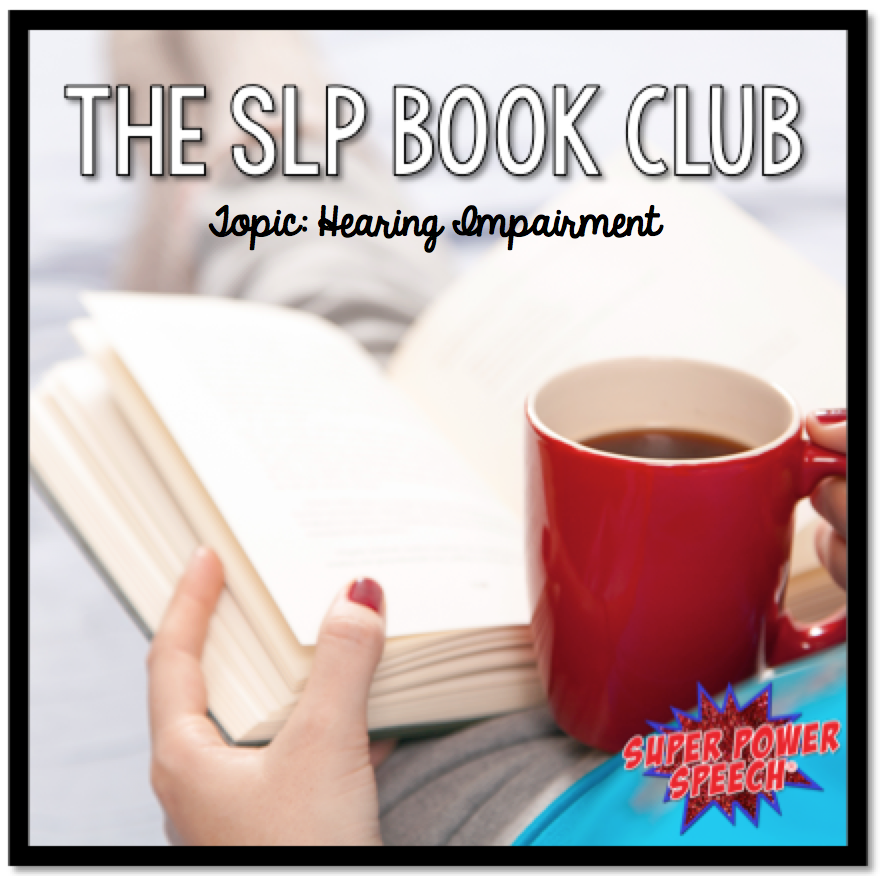 Welcome to the SLP Book Club!  This book club has been my dream and my baby as an SLP and a bibliophile. I am so excited to find others out there that want to explore new books with me and discuss them in the comfort of your jammies and slippers! If you haven't already joined to get updates and notifications, then click here to sign up.
Disclaimer: Amazon affiliate links included
---
I enjoy travel memoirs. Some of the books that I've enjoyed over the years have included: Eat, Pray, Love, A Walk in the Woods, In a Sunburned Country, Born to Run, and Into Thin Air. This book club book, The Unheard, however, was similar and yet so different. The author's hearing loss and complete reliance on his hearing aids added so much to the story that I'm not sure I can go back to traditional travel books!
Author: Josh Swiller
Genre: Memoir
Summary: Not knowing what to do after college, Josh Swiller joined the Peace Corps. He was then assigned to a city within Zambia that had never known a Peace Corp volunteer before and certainly had never seen hearing aids before. The city was known for its violence and lack of government support. Josh found soon after arrival that his intended purpose, to help the people dig wells, was likely never going to happen. Instead, he met an amazing man and friend, Jere, and began to experience true friendship. During his two years in the Peace Corps, Josh survives a lawsuit, a bus crash, the loss of hearing aids, malaria, and a mob set on killing him. He comes out with a new perspective on life and on deafness.
Overall rating: 4/5
Quotes to ponder:
"I wondered what part of ourselves is formed from our communication with others and what part is untouched by it. And where could one find the untouched part?" (Page 216)
"It struck me that maybe this what I had come to Africa to learn: not to save lives not to exchange cultures, not to understand deafness or escape deafness or embrace deafness–just to be grateful for each moment." (Page 251)
Questions (and my answers… please add your answers in the comments):
1. Imagine yourself as Josh when he watches his bag with his passport, money, and hearing aids get stolen. What would you do?
Dread came over me when imagining Josh, swimming in the ocean, saw his most important possessions running off. I am already somewhat aware of how difficult it is to get paperwork replaced in your own country. The idea that Josh would be unable to leave, travel, or even prove his identity in this place was terrifying. It was only then that I realized that Josh could also no longer hear. How would he navigate where to go or what to do next? How would he return to the village or elsewhere? This is what my worst case scenario dreams entail.
2. What did you think of Josh's experiences growing up learning to lip read and having intensive speech?
Since Josh did not receive his first hearing aids until the age of 4, I was amazed at the language skills he was still able to develop. He went to Yale of all places! I was wondering what exactly the speech therapy he received entailed. I've never thought about how you would teach lip reading!
3. How do you think Josh's Peace Corps experiences may have been different if he was hearing?
I think Josh's experiences might not have been so different. I think he would have encountered the same cultural differences with the village and Boniface in particular. The community would likely not have thought of him as "rude", but due to his personality, maybe they would have! If anything, having the ability to turn off his hearing aids and feel the silence may have helped him more than it hurt.
4. What were your feelings about Boniface?
Where to begin! That one person can do so much damage, intentionally or not, is enough to make my blood boil. I wonder where all of his power came from initially and if the people supported him because they were scared, or because they actually had some respect for him.
In the comments below, please answer the questions with your thoughts. I can't wait to hear your thoughts about this book!