Goal Writing 101 for slps
I have a long history of writing terrible goals, especially for those with complex needs.
My history begins in the late 90s when I accepted my first school-based SLP job. One classroom that I served included multiple students with complex communication needs. I had not a clue how to help these students and just continued with whatever goals had been written onto their IEPs (likely that they would hit a switch). I was bound and determined to better know how to help these children. So I packed up and moved across the country to do an AAC internship with a renowned AAC expert.
You would think that spending a year with this amazing PhD would have transformed my ability to write goals for my students. But then you would be wrong. Quite wrong.
Here are a few of my common goal-writing mistakes:
I did not include baselines.
I did not create goals based on the priorities of the family and teachers.
I created goals that were not realistically measurable.
I reused goals year after year.
Interestingly, what changed my ability to write goals was not my familiarity with tools or therapy techniques. It was my doctoral research that had me re-think everything I thought I knew about goal writing.
What are goals?
The National Center of Intensive Intervention (n.d.) describes goals as having three main functions:
Create a plan for therapy to increase functioning for health, quality of life, or education
Determine if progress is being made or if therapy needs to be changed
Inform stakeholders if continued therapy is needed
SMART goals
These goals should be approached within a framework. The most well-known of which is SMART (first proposed by Doran, 1981):
Specific
Measurable
Attainable (or action words depending on who is defining the acronym)
Relevant
Time-based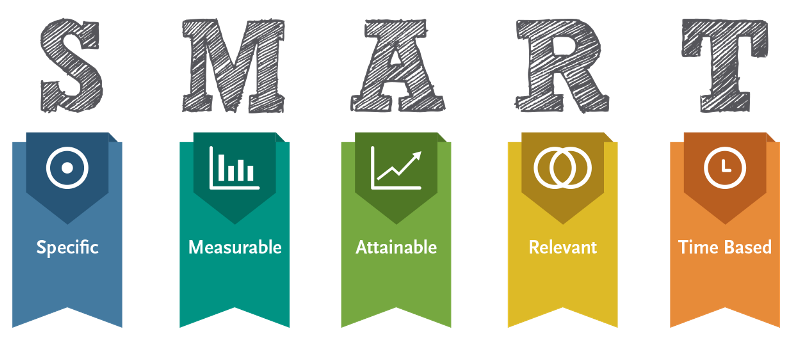 Rainbow goals
I have created a new variation of SMART goals that I refer to as Rainbow goals (note, colors do not have to follow this order, and yellow can be eliminated for a client who is primarily a verbal communicator):
By this date, who + will do what + using what communication modality (speech/AAC/ASL) + from what baseline + to what goal level + with what supports + as measured by what?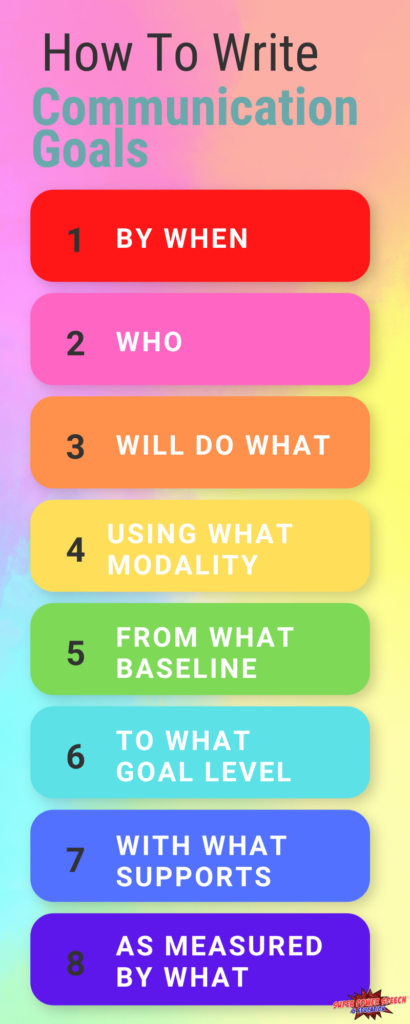 3Ms
When writing your rainbow goals, make sure you take into account the 3Ms (Bresciani, Zelna, & Anderson, 2014):
Meaningful
Evidence based practice = Client values + SLP Expertise + Current evidence (asha.org/ebp)
Note that "client" may mean children, families, teachers, and IEP team.
Measurable
Find out what is measurable by determining a baseline through language samples, dynamic assessments, and/or informal assessments.
Make sure that you can quantifiably measure the goal AND that it is clear enough that another SLP or SLPA could come in and measure it as well (you never know where clients will move mid-year).
Manageable
Find out what is manageable by examining your clinical experience (break the long-term goal into manageable pieces)
No more than 3
Time-bound is helpful (1 by fall, 1 by winter, 1 by spring)
Do NOT reuse last year's goal exactly!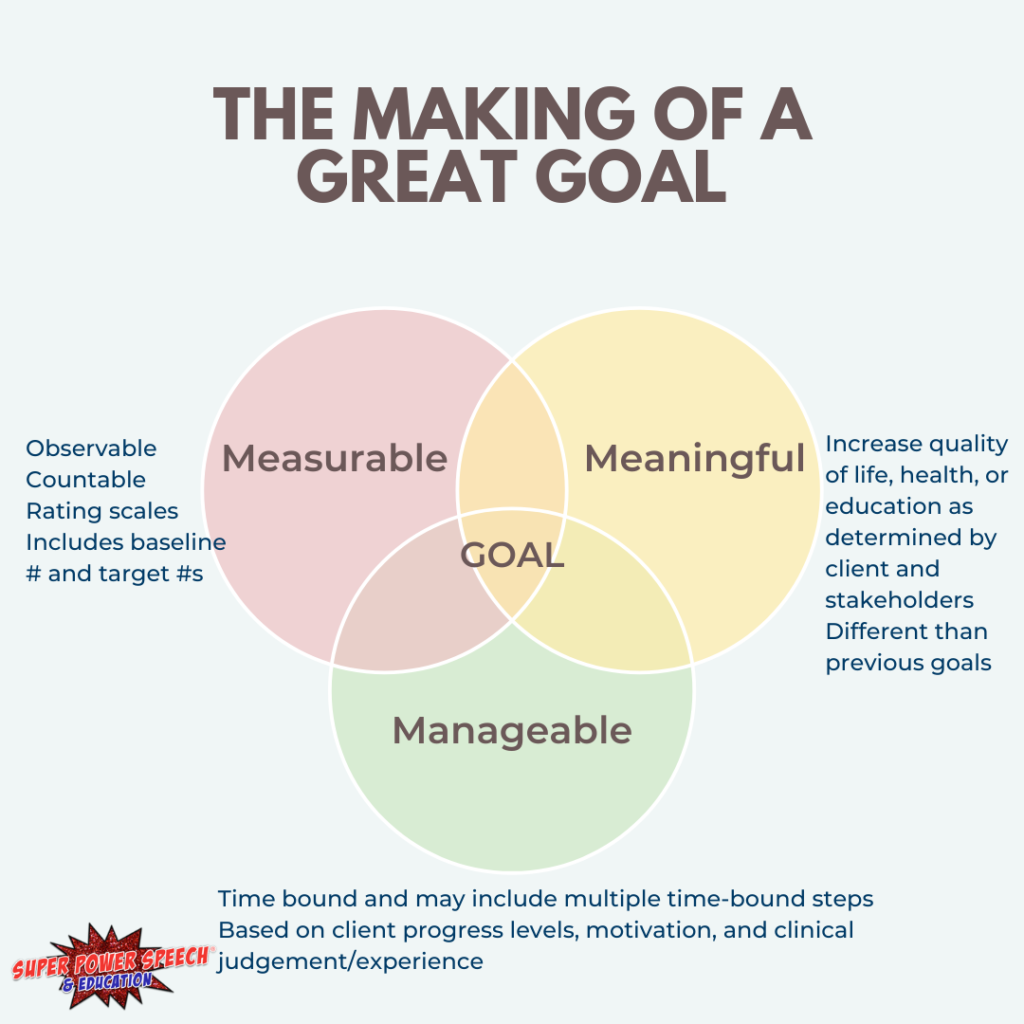 Example
Using these frameworks, an SLP or special educator can create data-driven, evidence-based goals that are perfect for IEPs or outside therapy. Let's try it out with an example!
MEANINGFUL:
The classroom teacher and parent agree that the client's past tense difficulties make it very hard to understand their stories. Communication partners have trouble following the timeline because the client frequently speaks in the present and future tense. They have indicated that using past tense is a meaningful and priority goal area.
MEASURABLE:
As a busy SLP, you know that you cannot possibly measure every past tense verb in the English language. You decide that probing for 10 common past tense verbs is sufficient to show if the client understands the concept of past tense. Start by taking a baseline. This will help you know how significantly the client struggles in this area. Note: you can also start with a baseline for multiple areas and then determine the most meaningful areas to work on in speech.
MANAGEABLE:
You want a goal that you can mark as + or -. It will be measurable in a field of 10. The client's baseline level is 10% accuracy a field of 10. Based on their previous progress levels, you create a goal that (based on your professional judgment) will be a reasonable challenge to reach.
GOAL:
By June 2023, the Client will independently use grammatical past tense -ed from a baseline of 10% to a goal of 50% as measured by answering "What did they do?" when shown 10 visuals/photos.
This sounds doable, right? But how does it apply to individuals who are using AAC tools or have significant needs for communication partner support? Coming soon… learn about AAC Goal Writing.
Resources to help you get started writing great goals: