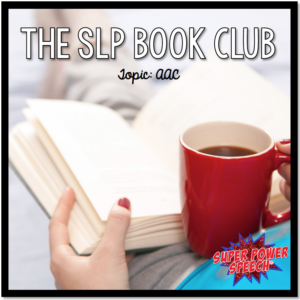 Welcome to the SLP Book Club!  This book club has been my dream and my baby as an SLP and a bibliophile. I am so excited to find others out there that want to explore new books with me and discuss them in the comfort of your jammies and slippers!
Disclaimer: Amazon affiliate links included
Author: Martin Pistorius
Genre: Memoir
Summary:
Within the short time period of 18 months,  a rare and strange disease transforms Martin from a healthy 12-year-old to someone that I would describe as having "locked in" characteristics. Martin's family is told that he has very little time left to live and that his cognitive skills have diminished to the level of an infant. His family almost breaks apart as the strain of caring for a suddenly disabled child, with an uncertain future, unhinges everything. Within a few years, however, Martin regains abilities that the doctors were sure were lost forever. He understands language and begins to control enough of his muscles that (with the help of a very perceptive caregiver) he begins to communicate. At first, his communication is with very slight eye, facial or hand movements. After years of extremely dedicated work and endurance, he becomes an amazing AAC communicator, who gets a job, moves to another continent, and at the end of the book marries the love of his life.
Overall rating: 3/5
Quotes to ponder:
To other people, I resembled a potted plant: something to be given water and left in the corner. (page 30)

People must make a conscious effort to look at me and listen to what I have to say. They must allow me the space to speak because I can't butt in, but many don't want to listen to the silence I create. (page 143)

And it was then that I realized that families might be the ones who pick up time and again but strangers can also rescue us–even if they don't know they're doing so. (page 201)
Discussion questions:
What do you think about the various caretakers in the book? Why do you think they acted the way that they did?
Multiple people in this memoir show amazing faith in Martin's abilities. Who do you think had the greatest influence of Martin's rehabilitation?
What attracted Joanna to Martin and why do you think she pursued the relationship?
What amazed you most about Martin's story?
Author: Cammie McGovern
Genre: Young Adult

Summary:
Amy is brilliant and beautiful. She also has cerebral palsy. She uses AAC to communicate her amazing thoughts but has never had any real friends with which to communicate. So after convincing her parents to help, Amy spends her entire senior year of high school with paid "peers" rather than "adult" helpers within the school. Within these paid peers, Amy discovers friendship and love for the first time. It is energizing and new and exciting. She makes it a mission of her own to not only be helped by her peers but to help them as well. Everything changes, however, when Amy begins her first year at Stanford and loses the amazing support and relationships that she had spent a year building.
Overall rating: 4/5
Quotes to ponder:
The talking computer changed how everyone saw Amy. (Location 186)

I have learned that many people have disabilities they must make their peace with. (Location 1019)

"Yes, this will be hard," Nicole would tell Amy as they practiced walking four or five hours a day through the first six years of Amy's life. "But we're not afraid of hard." (Location 1193)
Discussion questions:
What do you think about Amy's experiment of having paid peer helpers?
Do you feel that Amy's parents were justified in their expectations for her helpers/social life?
In what way do you feel Amy helped others the most?
What did you think about the last portion of the book after Amy goes to Stanford?
Are you ready to start discussing? Comment below and make sure to comment on other people's comments so that we can make this a full discussion! Think of your social skills groups… we need participation and turn-taking!