Disclaimer: This post contains affiliate links.
Why do we pretend?
Why imagine beyond the here, now, and yesterday when talking?
Kim has a fabulous post all about the benefits of pretend play on early language development and I'd like to add to this point to discuss the amazing things pretend language does for elementary-aged children. Pretend language explains things kids know (a trip to the grocery store) or do not know (I wonder what would happen if…..). It is the dialogue that keeps you hypothesizing, guessing, and creating.
4 great benefits for elementary-aged children using pretend language:
1. Pretend language expands vocabulary. Pretending to climb a mountain, go to outer space, or discover a cure for cancer requires a word set that is far beyond what the child will experience in their day to day living. It requires that they recall words from school, books, and even sometimes (gasp) television to fully explain and develop their thoughts.
2. Pretend language encourages complex language. It is very difficult for an elementary school child to pretend or imagine with just nouns. Pretend language typically includes many conjunctions "if, then, but, when, etc…", a variety of verbs, and long sentences!
3. Pretend language is the basis for writing skills beyond first grade. Kindergartens typically write simple factual sentences, "I like mom." Beginning in first grade, however, children are expected to think beyond their family and their classrooms and write about things that they imagine. By second and third grade students are writing entire imaginative stories, almost always relying on pretend language.
4. Pretend language develops language skills, even when alone. Pretend language is the language of curiosity that can teach children how to dialog, take turns between characters, and keep a conversation going. This language can even be practiced alone inside of one's own head!
My favorite book to use about pretend language is The Snowy Day by Ezra Jack Keats. According to Wikipedia, this book was the first full-color book with an African-American as the main character and was named #5 in a list of "Top 100 Picture Books" in a 2012 poll  I love that this book uses an African American main character (still unusual in children's books) and captures the excitement of my students.
In The Snowy Day, Peter spends a small part of the story pretending he is a mountain climber.  You can almost hear the dialog in his head as he strains to drag himself up the enormous mountain of snow. Maybe he uses the words "grasp, ice, notch, steep" as he ascends.  It is left for the reader to guess, and to use our imagination to pretend as well.
I created a book companion that goes perfectly with The Snowy Day. You can purchase it here.
Below is just a few of the many activities included in this book companion: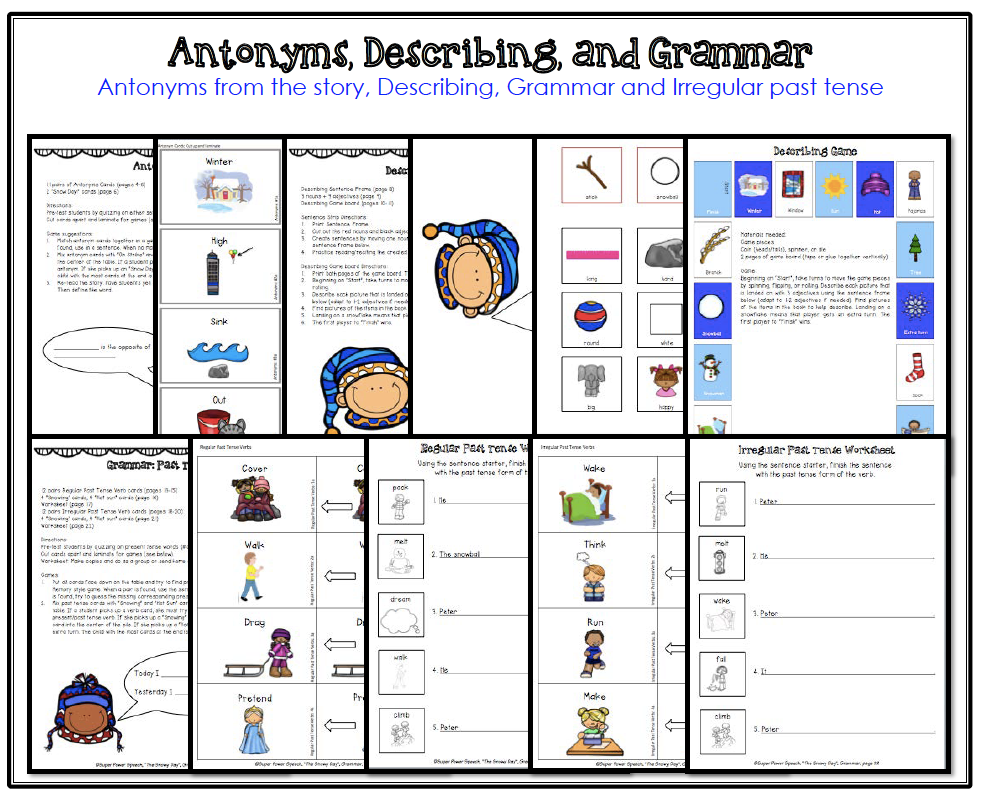 In the comments below, let me know your favorite way to work on pretend language!