I did it!
I just completed my first trip to Vegas. In winter. With kids. With a chronically ill spouse. For an in-law family reunion.
I had a great time, although I really, really wish it were warm enough for me to walk around without a hat, scarf, and winter coat. I was staring longingly into the amazing looking (un-used) pools. The decorations in our hotel made up for the lack of swimming. They were stunning and so festive. And although I had no gifts for my kids on Christmas morning, we all felt the holiday spirit with the fabuous lights and decor. My husband's family (many of whom I have only met once or twice), were so kind and generous. Although my kids were the only kids in attendance, the family went out of their way to be friendly and helpful. They really wanted the children to have a good time.
Overall, it met all of my expectations. I walked 18,000-25,000 steps each day (huzzah!). I ate some amazing dinners. I was able to see "O", which I have longed to do for years and years. My daughter and I walked down the strip to drool over extremely large chocolate items. My brother-in-law treated us to an amazing animal preserve where we got to see an enormous white tiger playing (literally playing!) with a huge red ball in the water. One of the workers commented that if he was given the blue ball, he ignored it. Given the red ball, however, he had a "ball" (ha! ha! very punny!). It reminded me of many of my students.
Although it was definately pricey, I found some ways to save money. I brought my own cereal/snacks to the hotel. Our sightseeing mostly consisted of walking into a few hotels and looking around. Our in-laws were excessively generous in treating us to many special things including dinners and the show.
I do have one major complaint, however, that I hadn't completely expected. The crowds. The "defying personal space at all moments" crush of people. For an agile and healthy individual, this is manageable. I simply could duck, dodge, and skirt around people. Add two kids to follow me and this became more difficult. Add a wheelchair? Nearly impossible.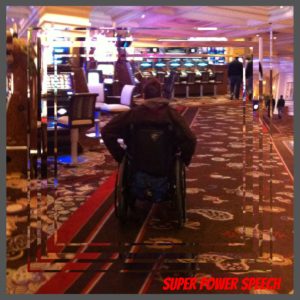 I took this picture at 8am on the day that we left, so it is truly a mis-representation of the crowds. During any time of the day after noon, getting the 1/4 mile to anything in the hotel was like manipulating the NY subway during rush hour. Thankfully, my husband has the wheelchair driving skills equivalent of a race car driver. He could weave in and out of the crowds almost as well as I could. A less agile person, however? He/she would be stuck in the throngs for hours.
All that said, however, we had a fabulous time. I could certainly see myself there again. Especially if the weather cooperated and I could spend most of the day by the pool!