I am not a reviewer. Those of you who have been reading my blog for years a while know that at most I review my own creations. And maybe occasionally an item from a company that I have no affiliation with at all, I just love their product… like Diet Coke healthy paleo meals.
But when I first saw the Speech Buddies product, it just clicked that this makes sense. When I worked with a Physical Therapist this fall after breaking my foot, she used tools to manipulate my foot and leg. When I watch Occupational Therapists at work, they use tools for positioning of fingers and hands. Why is it that in Speech we often magically expect children to form correct tongue and jaw placement when they cannot see or feel what they are supposed to be doing?


What are Speech Buddies? They are tools that can be used by the SLP (and later the child) to facilitate teeth, tongue, and jaw placement for different sounds. The professional kit comes with 5 tools /r, s, sh, l, ch/. There are some great pictures that come with the tools as well to help kids (and adults!) understand where the tongue should be in relation to the tool.
The tool I used by far the most was the /s/ to elicit correct tongue and jaw placement for both frontal and lateral sounds. I had one student tell me, "I like that thing. It helps me say the sounds better."
Here is a picture of my son modeling use of the /s/ tool. He really did work on /s/ with me for a few years at home, so he was a natural!


Here my son is modeling use of the /sh/ tool. This one worked well for tongue placement, however, it does not help with lip rounding and so that must be learned as a separate skill (don't mind the blue lips as he had just eaten a cup a frozen blueberries!).


And my daughter is modeling the /l/ tool. This one was a little harder to use as some of my students just pushed the plastic part back out of their mouth. Once they understood it as a prompt, however, I had good success with one of my students and this tool.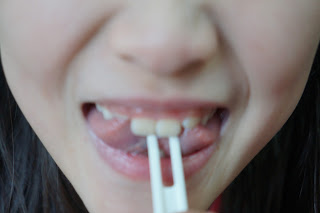 Finally, the /r/ tool. I want you all to appreciate that I had to take about 30 pictures in order to get one this clear, focused, and close up! My daughter will accept flowers, cash, and all other forms of praise for her stamina in doing this modeling gig! She has been working on /r/ for the last year with me, so I counted this as part of her therapy time. The /r/ tool works on a retroflex /r/ by having the child uncurl the tip of the tool with her tongue. I thought this tool did a nice job of working on backing the tongue up in the mouth, however, it did not work on widening the tongue at all (or "puffy tongue" as I call it), and for that reason I did not feel this tool was as useful to me.


(Note: I have no students working on the /ch/ right now so I did not use that tool since receiving the set.)
Confession: When I first saw the Speech Buddies, I figured there was a cheaper way for me to jimmy-rig this together myself for at least the /r/. So…. I started using rubber bands and straws. Unfortunately, they were disposable and so each time I made one, I had to toss it. Eventually, I gave up! It never even occurred to me to create tools for the other sounds!
I have to tell you that after using these tools for 2 months, I am truly a believer that every SLP should have these as tools to use with kids. If you, like myself, have zero budget for materials, then I would encourage you to get a grant, donorschoose, or find some other funding source for at least the /s/ sound.
Sometimes the intricate and invisible muscles that we are trying to get a child to manipulate really just need a tactile cue!
Okay everyone… here's the best part! When I contacted Speech Buddies to see if I could try out and review their products, I also asked if I could give a set away as well! So here's your chance to win a set!
Not only that, one of my SLP BFFs is giving away a set too! Jenna from Speech Room News! So enter to win at her site too!
Giveaway is CLOSED. Thanks for entering!
*Disclosure Statement: Speech Buddies were provided for this review. There was no other form of monetary or other compensation.