Edited: I read that the google docs were not working for some. I have changed the link. Please let me know if you can open the google docs to download these visuals.
Do you know a child who needs frequent reminders for transitions?
Ha! Ha! That was a rhetorical question!

After repeatedly asking teachers to use visuals with my students with auditory processing difficulties, I realized that they too needed reminders. Visual reminders. So I gave up and made the reminders myself.
These are easy enough just to write down on file cards and hold up when needed, but I decided to get all colored and fancy.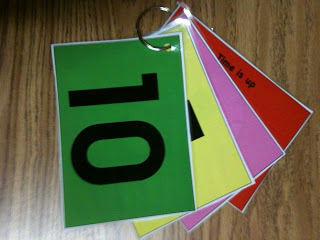 So, I've decided to share with you as well. Cuz I'm nice like that.
You can use these any way, but I suggest laminating and then placing on a ring for easy flipping. Use before transitioning to a new activity within the classroom/home and (this one is key) when transitioning from the playground to lining up.
Hope these printables are helpful!