Halloween Mad Libs at Speech Club
Disclaimer: This post contains Amazon affiliate links.
Every single school day at 8:45 I wait to receive my "Speech Club" students. These are my older (3rd-5th grade) articulation students who need a small daily dose of articulation practice. The teacher agreed last year to let me give this a try, taking kids before the school day technically begins, so that these kids would not miss core instruction for their speech therapy.
With a few exceptions, this system has worked out very well. There are a few kids who just can't get to me before the school day begins because of their transportation issues, need to breakfast before school (all students at my school are offered free breakfast because of our poverty level), or other scheduling issue (band meets at another school at 7:45am so if a kid is in band they can't get to me in time for Speech Club).
I have a a rotating schedule of things that we do. Every Monday is "Mad Libs Monday". This routine stays familiar, while avoiding the monotony of saying the same articulation words every. single. day. This schedule also gives me the opportunity to (secretly) expose my students to high level vocabulary on a regular basis. Many of my kids are ELL and many others have parents with little educational background. Even without diagnosed language disorders, almost every student in my school needs exposure to more vocabulary to help them be successful in their educational environment.
Most of my Mad Libs (all self-created) are generic, however, I have a few "seasonal ones" thrown in.
Freebie: At the moment, all of my students in Speech Club are working on /s/ or /r/ (these are 3rd-5th graders after all). So the following meets the meets the needs of my kids.  Feel free to download the following free Halloween Mad Libs for your kids!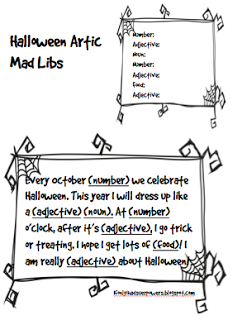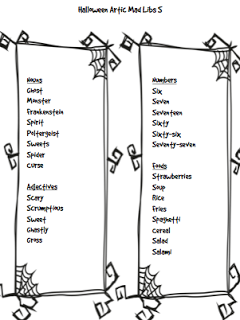 And… with great trepidation, I am attempting my first business venture in selling materials. I've been encouraged by several people to let others "show their appreciation" for my blog over the years.
There are some incredible speech therapy materials for younger kids on TpT, however, less that focus on the needs of older kids who need to practice learning parts of speech, vocabulary, reading, and writing.
I created a packet of 15 original "quick" Mad Libs to do with articulation and/or language students. These contain only around 7 words to fill in, which makes doing the Mad Libs only take 5-10 minutes (although this activity can be extended for up to 30 minutes if you practice reading to a variety of people).  I also created articulation sheets broken down by parts of speech: noun, proper noun, verb, adjective, number for the letters /s/ (all positions and blends) and /r/ (prevocalic and all vocalic /r/). This packet is 26 pages long in total.
Check out Artic Mad Libs here: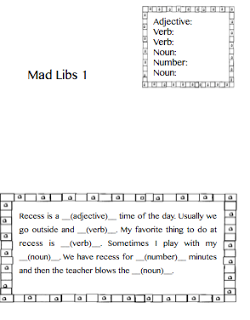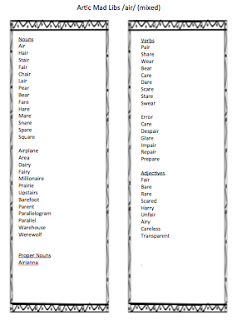 I hope that this is a useful download for some Speech Pathologists and/or Parents out there! If successful, maybe I'll try this again! 🙂