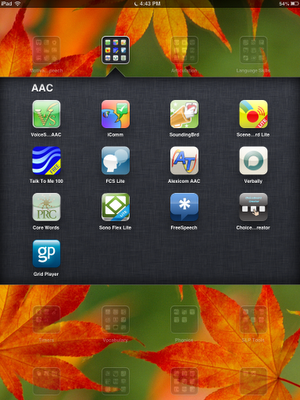 A miracle occurred last spring. The voters in my area approved a bond which, among other things, updated the school district's technology.  The Speech Pathologists (clever and quick-to-act folks that we are) quickly jumped on this and made a proposal for iPads. Which we received last month!!!
Unfortunately, even the best laid plans have their difficulties. In this case, our difficulty is that we are supposed to be using District accounts, but there is no money for apps. We are told not to use our own account to buys apps. Sit tight. Hold your breath ("Clench up Legolas!"). Wait.
I have used this hibernation period to to search out any and all free apps that are of clinical value. And with this post, I will begin to share what I have found.
VoiceSymbol AAC: Super cute symbols and broken down into pronouns, common verbs, common words (yes, no, please). This app links to other pages such as foods, drinks, verbs. Some things about this app are odd: such as the hammer on the home screen that says "hammer" when you touch it and links to a seemingly useless page. In addition, the word "yet" is on the home screen, whereas it is certainly not a high enough frequency word that it deserves home page treatment. For better or worse the controls are tiny on the bottom of the screen. The control that I especially wish were larger is the "clear" button. You do not seem to be able to edit or customize this app.
iComm: Nice 2-4 pictures of common words/phrases. It comes with photos already installed. The app claims that you can customize your picture and within a category, but when I tried it doesn't seem to work. I'm not a fan of the "yes/no" options after you finally choose a picture to confirm your choice.
Sounding Board: I cannot tell you how much I LOVE this app. It is like a great, awesome, customizable, FREE Go Talk-like app. You can create your own boards from 1-9 sqaures and insert your own pics, pics from their library, or pics from the internet (I do screen shots of Boardmaker pics and then use Dropbox to send them to myself and use those).  You record your own voice for each picture. I use this app every single day (and not just with kids who need AAC). This app probably deserves it's own blog post. (And no, it doesn't come with Boardmaker, but I used screen shots of Boardmaker pics and then sent them to my iPad and used those).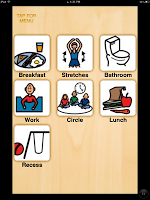 Scene and Heard Lite: Great potential! Has a variety of scenes with vocabulary. Even comes with a basic communication screen. You can put on one scene yourself in the lite version (I took a picture of my son's face and labeled face parts right on the picture). I can envision taking a photo of a classroom and labeling things within the room to be a great asset! I hope to buy the full version of this if I/when the district gets money.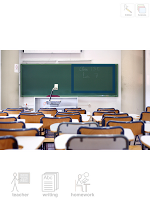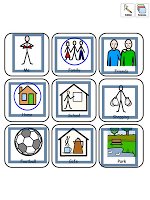 Talk to Me 100: This one has a great clean interface, differing colors for different parts of speech and a clear voice (plus the pictures are adorable too!). For simple 1-2 word utterances this is great. There are, however, no written words that show what has been pressed so communication partners will need to pay attention the first time. Since the full version is only $5.99, if they fix the bugs (the only ratings comment said that it didn't work yet in full version!) then I'd love to have the full version with many more words!
FCS 100: This one is odd. It has a vocabulary of photos attempting to represent the word. The words are arranged alphabetically (which is only helpful if you are literate). I'm not sure how long I'll bother keeping this app.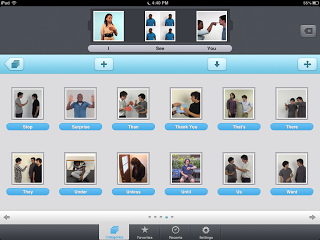 Alexicom AAC: I like this one a lot. The core words are great and the layout is clean. There are many pre-made grids and for communication partners, the words are written at the top of the screen with an option to re-speak the words.
Verbally: This is a great keyboard with common words above the keyboard for easy use. The word is spoken when you press "speak" after writing out a word or sentences. This would be great for individuals who can write (of which I have none….).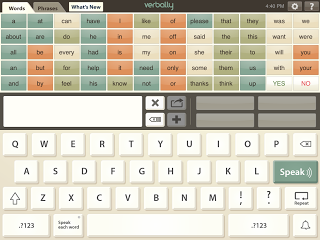 Core Words: This is a cute way to work on Unity Symbols for a child who has (or is looking at) a PRC device. It has cute little animations when you press the button.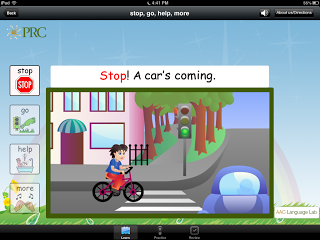 Sono Flex Lite: This is a really nice little picture communication board with computer generated speech. It links to other pages well and speaks when you press the message window. It even has a "circle time" page, which I may need to try out at circle!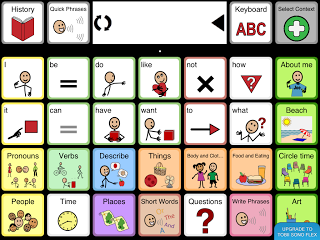 Free Speech: This app comes with a few categories and pre-loaded clearly recorded speech. The food page contains actual photos of food, but the rest of the pictures are line drawings.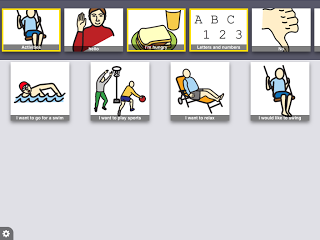 Choice Creator: This app is similar to the customizable boards on Sounding Board, but you can only have 3 choices. I haven't even bothered to put any choices in because Sounding Board meets my needs so well.
Grid Player: This picture communication system is ok, but not great. There is no easy way to say basic things such as "I want…". The strong accent could be distracting to American users (British accent?). Not my favorite.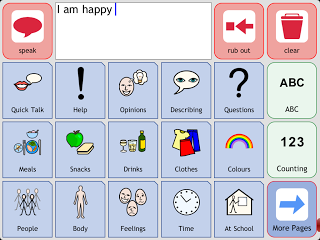 Hope you find something useful here! For your students, a family member, or yourself!!
PS: First person to correctly identify who said the movie line referred to in this post can get a free copy of my Artic Mad Libs (but you must leave me your email or enable email reply in your commenting… a handy thing which I wish everyone would do so I can email you back when you comment on my posts!!).