Although it isn't the most natural way to talk, today I helped two students keep a conversation going for multiple turns. These students have extremely impacted social communication skills and both have goals to keep a conversation going for two or more turns independently.
To help them towards their goal, I created visuals. I wrote the topic on a post-it note (and crossed it out with a new topic as the topic evolved). In addition, I drew the following fabulous visual to help the students know their role in the conversation and how to keep it going. We rolled a ball to the next person after asking our question.
I had some success discussing Halloween. Maybe you will too?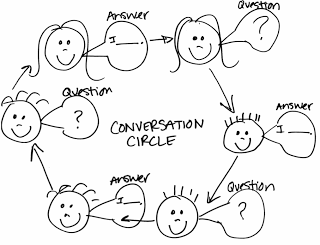 Download free here.