November Speech Lesson Plans 2014
November!!! My husband will celebrate a BIG birthday; my in-laws are coming to stay for two weeks; I get to bake lots of pumpkin bread.
Yay!!!!!!
You can download your FREE lesson plans for November here. These plans are separated by level (Level 1: grades K-1, Level 2: grades 2-3, Level 3: grades 4-5, PreK: early language developing, Social: elementary age social skills). They include clickable links as well as a column for targeted goals to write down specific goals for each students/group. There is even room for quick data right on the form!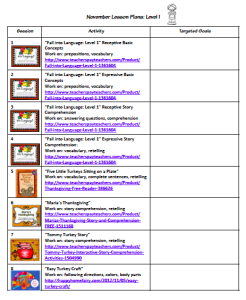 And this month, I created a super cute freebie that can be printed OR used straight from your iPad (no prep!)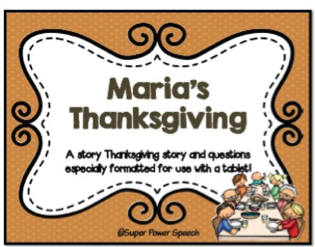 Look at what I'll be doing in November!
Speech and Language Homework for a Year
Social Communication Homework for a Year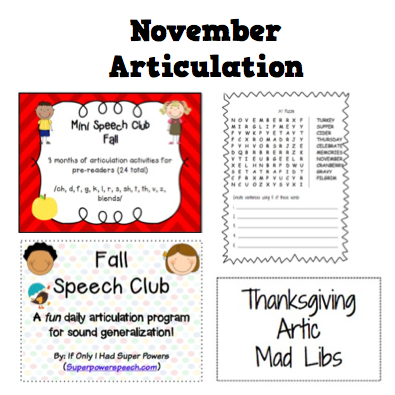 Mini Speech Club Fall
Fall Speech Club
Thanksgiving Wordsearch
Thanksgiving Artic Mad Libs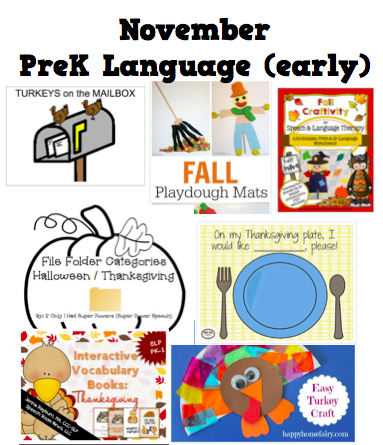 Turkeys Everywhere (FREE)
File Folder Activities Halloween/Thanksgiving (FREE)
Playdough Mats Fall (FREE)
On my Thanksgiving plate, I would like… (FREE)
Fall Craftivity
Thanksgiving Interactive Books
Easy Turkey Craft (FREE craft idea)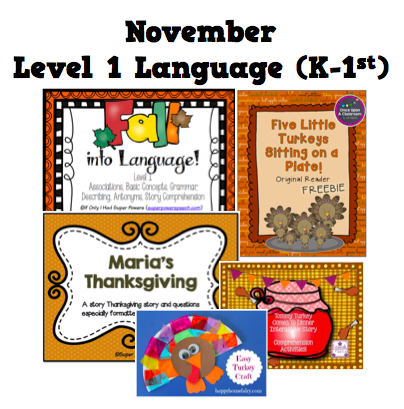 Fall into Language Level 1
Five Little Turkeys Sitting on a Plate (FREE)
Maria's Thanksgiving (NEW FREEBIE I just created!)
Tommy Turkey
Easy Turkey Craft (FREE craft idea)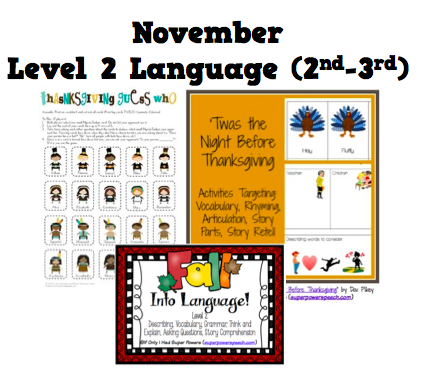 Fall into Language Level 2
Twas the Night Before Thanksgiving Book Companion
Thanksgiving Guess Who (FREE)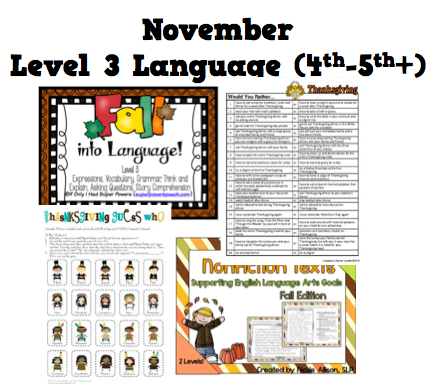 Fall into Language Level 3
Thanksgiving Would You Rather
Nonfiction Texts Fall Edition
Thanksgiving Guess Who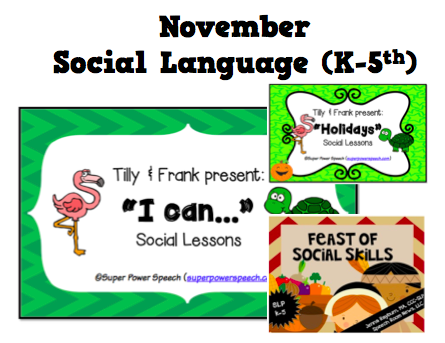 Frank and Tilly present "I can…"
Feast of Social Skills
Frank and Tilly present "Holidays"