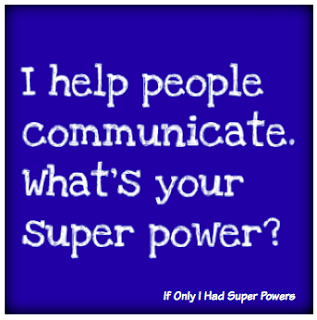 (Please note that although "I Help People Communicate! What's your Super Power?" has been floating around Pinterest with no link, this is the original quote, by ME!)

If you'd like a poster version of this quote, check out this set of posters/activities that I have made!
That's it. I'm changing my title. I want no longer to called Super Woman CCC (Certificate of Clinical Competence)-SLP (Speech Language Pathologist). I don't just do speech therapy. I don't just help students speak.
And I have one parent in particular that I absolutely cannot convince that doing basic sign language and low tech Augmentative Communication is helping his non-verbal son with Autism.
I help people communicate. By whatever means that I can. For most of my students, that is with their voice. But for some, using their voice just isn't happening and these kids need a way to communicate other than through extreme behaviors (grabbing, pulling, biting, spitting, etc.).  Even for students who have verbal skills, I spend much of my time working on non-verbal communication: body language, eye gaze, social cues, social routines.
In spite of what this parent says, I can't make a child speak. But I'd like to think that I can really help them communicate by some means.
If he'd ever be willing to read these, here are a few articles I'd like this parent to consider:
Autism and ASL
Using Sign Language to Help People with Autism Communicate
Alternative Augmentative Communication for Children with Autism: PECS and Sign
AAC and Autism
Faced with the Communication Challenges of Autism
Autism Spectrum Disorders and AAC
If you have any other articles or stories for me to share, please leave them for me in the comments. Because this is one less critical person that I'd like to be dealing with right now…