The Cheapest Voice Output!
I showed you before how to use powerpoint for simple augmentative communication boards. But check these powerpoints out which add voice to the communication board!
Art Choices with shapes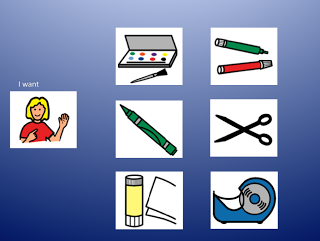 Art Choice with photos


All done with Powerpoint!
Prerequisite skills include use of a mouse/trackpad (or access to a touch screen) and some understanding of symbols (photos or Boardmaker pictures). Use this form of AAC to have your student/child make art choices and add voice to their choices! This can be expanded to become as many boards as you'd like.
If this works (and people can successfully download it), let me know. I will follow up with a tutorial if it is desired.