Where's the Kleenex? My princess has arrived.
Do you remember my little princess? My gorgeous student who recently received a FM system to help her hear better in the classroom. If you don't remember, go back and read this story. Trust me. It will be worth it.
I was walking down the school hall a few weeks ago and paused to admire the walls. They were filled with students' writings and photos of their favorite body parts. Students at this grade level complete the assignment every fall. I've laughed when students, who can't seem to will their voices to turn off, choose their "mouth" as their favorite body part. I've smiled when a student, who taught himself tap-dancing for the talent show, chose his "feet" as his favorite part. Most people choose their hands or their eyes for their obvious usefulness and beauty.
But this year as I walked through the hall, I halted suddenly. And I almost cried. Right there. In the middle of the hall.
This is what I saw: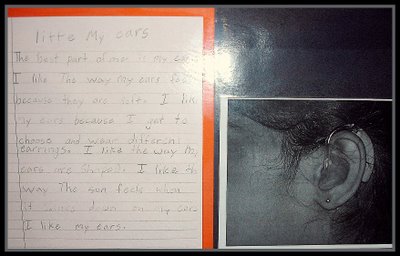 "My Little Ears
The best part of me is my ears. I like my ears because I get to choose and wear different earrings. I like the way my ears are shaped. I like the way the sun feels when it shines down on my ears. I like my ears."
Can someone hand me a hanky please? I'm starting to weep again.