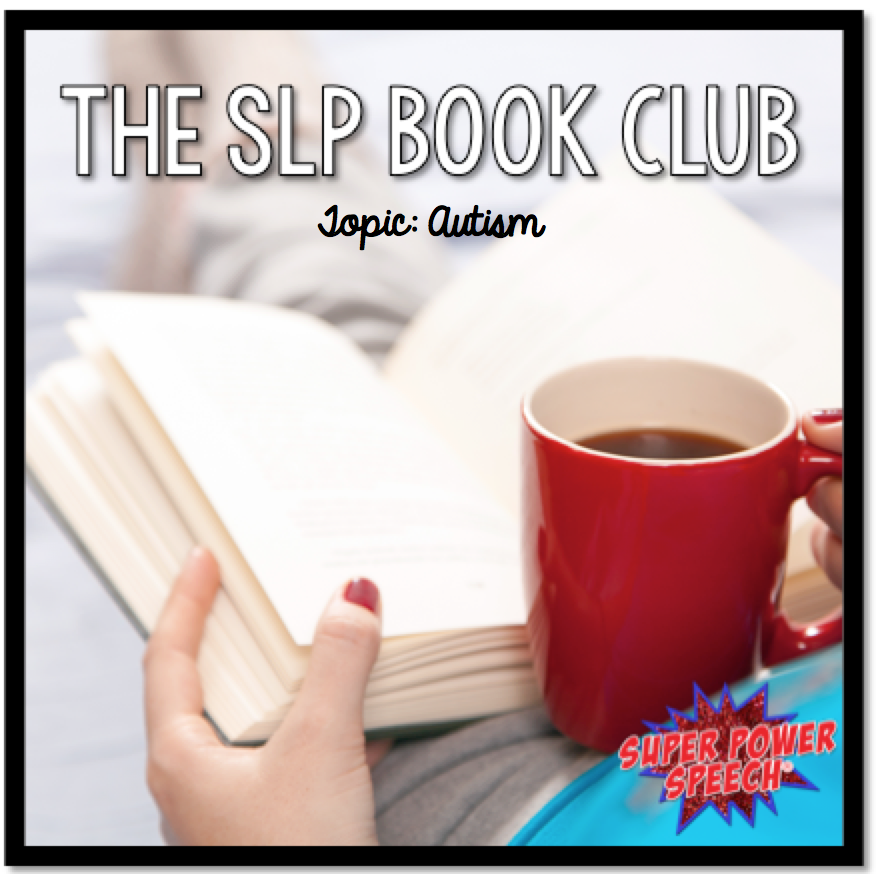 Welcome to the SLP Book Club!  This book club has been my dream and my baby as an SLP and a bibliophile. I am so excited to find others out there that want to explore new books with me and discuss them in the comfort of your jammies and slippers!
---
Disclaimer: Amazon affiliate links included
I have read a lot of fiction books about autism over the years. It was therefore difficult for me to find books for this book club that I had not already read. I was vary wary of choosing a Jodi Picoult book, in spite of many recommendations, because I have found them to be too intense in the past. Overall, however, I am pleased with my choices and felt that both books were good reads. I hope you enjoyed them as well!
Authors: Temple Grandin, PhD and Richard Panek
Genre: Nonfiction
Summary: 
In this fantastic book, Dr. Grandin shares her experiences with autism along with amazing new discoveries and research about autism. I found the book extremely easy to read, great for taking notes, and overall finished the book feeling a lot smarter than when I had started it!
Overall rating: 5/5
Quotes to ponder:
"I warn parents, teachers, and therapists to avoid getting locked into the labels. They are not precise. I beg you: Do not allow a child or an adult to become defined by the DSM label." (location 36)
"To compensate, my brain sprouted new fibers, and they tried to go somewhere, anywhere. Where they wound up primarily was in the visual area that than the traditional language- production areas."
Discussion questions:
What do you think about Dr. Grandin's statements on page 182: "Putting kids who are on the spectrum in the same classroom as their nonautistic peers and treating them the same way is a mistake….But if a school treats everyone the same, guess what: The person who's not the same is going to stand alone. That person will be marginalized in the classroom. And once that happens, it won't be long before that student is marginalized for good — sent to a separate classroom or even a separate school. And suddenly the Aspergers's kid might find himself in the same program as a bunch of nonverbal kids."?
What are your thoughts about the analogy of the brain as a company in a high rise building (where the CEO is the prefrontal cortex, the frontal cortex, parietal cortex, occipital cortex and temporal cortex are vice presidents, etc.)?
Author: Jodi Picoult
Genre: Fiction
Summary:
Jacob Hunt is an eighteen year old who is obsessed with crime shows. He owns fingerprinting equipment, a police scanner, and other deception gear. He also has high functioning autism. In this novel, Jacob becomes the suspect in the murder of his social skills coach. The narration alternates between Jacob, his mother, his brother, the lawyer, and the primary detective in order to figure out what really happened on that January afternoon.
Overall rating: 4/5
Quotes to ponder:
"It's times like this I am glad I don't look people in the eye. If I did, surely they would die on the spot from the contempt shooting out of mine." (Page 23)
"Isolation. A fixation on one particular subject. An inability to connect socially.

Jacob was the one diagnosed, but I might as well have Asperger's too." (page 42)
Discussion questions:
What questions should Jacob's mother and lawyer asked of him earlier?
What do you think of the accommodations that were allowed for Jacob in court? How realistic do you feel that these were?
What would you have done differently if you were Jacob's lawyer?
Are you ready to start discussing? Comment below and make sure to comment on other people's comments so that we can make this a full discussion! Think of your social skills groups… we need participation and turn-taking to make this work!