The SLP Book Club: Stuttering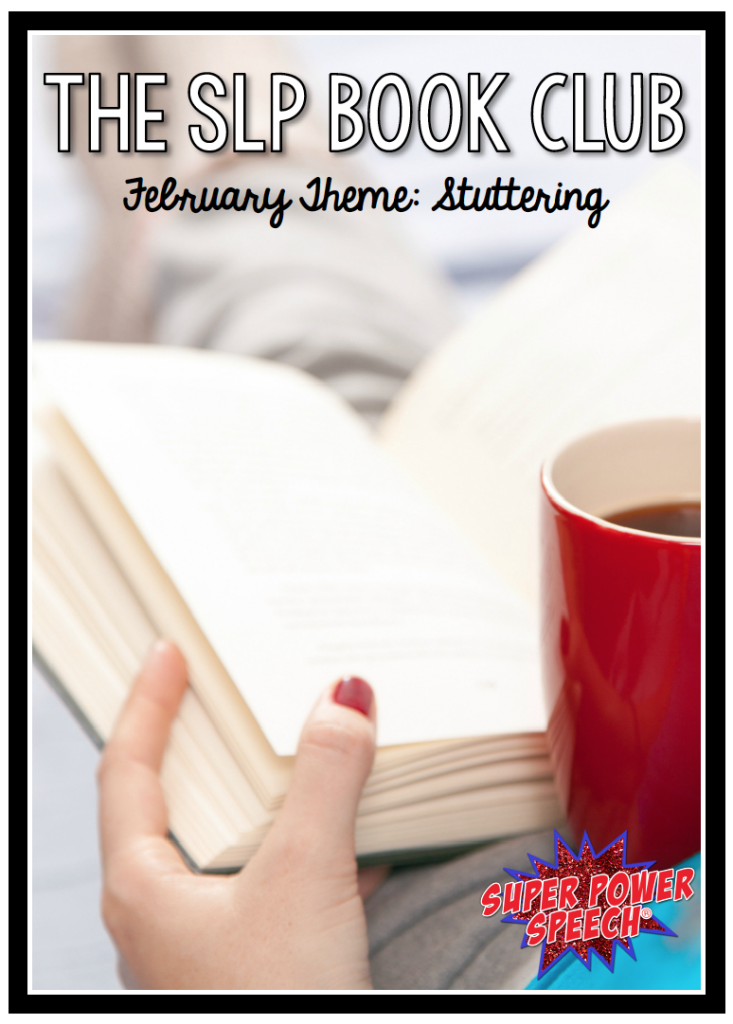 Welcome to the FIRST SLP Book Club!!!! I'm so excited that you are here! I introduced the book club last month with the mighty hopes that I could engage other SLPs and bibliophiles in conversations! And wow! Did you appear! Within a week, I had over 69 people say that they wanted to take part in this adventure! I announced that our first topic would be books about "stuttering" and that everyone who was able should read 1, 2, or even all 3 of the suggested books. Are you ready? I read them all and am so excited to get this discussion going!
How to participate:
Read my thoughts.
Comment at the end of the post with your own.
That's it! Welcome to the club!
Disclaimer: Amazon affiliate links included
Author: David Mitchell
Genre: Fiction
The low-down: I discovered this book when searching under "speech" and fiction. Since I had loved Mitchell's book Cloud Atlas, I was hoping to love this book as well. It is a story of a 13 year old boy living in a village in Great Britain in the early 1980s. Jason Taylor is dealing with a dysfunctional family, merciless bullying, severe "stammering", and learning how to survive during the pre-teen years.
The bibliophile's review: I often found the book difficult to follow. It seemed to jump around from scene to scene. The language and content was quite crude, but since I have a 12 year old son at home myself, I understand why it was included. At one point, it seemed like there would be a connection between the way that Jason is ostracized because of his stammer and the Gypsy community also ostracized  because of their differences. But, then the story shifted and that analogy was lost.
The SLP's review: Although Jason works with a speech therapist, he does not feel that it is helping. He does, on the other hand, have a rush of gratitude towards his speech therapist when she calls the school and ask that his public speaking assignment be postponed, "If I was the pope I'd've made Mrs. de Roo a saint. On the spot." (location 793). It makes me wonder how many students I have had that feel one or both of these emotions towards me. That does make me ponder, for both better and worse.
Overall rating: 3/5
Quotes to ponder:
"Yis," said Mrs. de Roo. "That's the question. My answer is, It depends. Speech therapy is as imperfect a science, Jason, as speaking is a complex one. there are seventy-two muscles involved in the production of human speech. The neural connections my brain is employing now, to say this sentence to you, number in the tens of millions. Little wonder one study put the percentage of people with some kind of speech disorder at twelve percent. Don't put your faith in a miracle cure. In the vast majority of cases, progress doesn't come from trying to kill a speech defect. Try to will it out of existence, it'll just will itself back stronger. Right? No, it's a question–and this might sound nutty–of understanding it, of coming to a working accommodation within it, of respecting it, not not fearing it. Yis, it'll flare up from time to time, but if you know why it flares, you'll know ho to douse what makes it flare up." (location 613)

"Picked-on kids act invisible to reduce the chances of being noticed and picked on. Stammerers act invisible to reduce the chances of being made to say something we can't. Kids whose parents argue act invisible in case we trigger another skirmish. The Triple Invisible Boy, that's Jason Taylor." (location 4864)
Discussion question (from this reading guide):
At the beginning of the novel, Jason fears that his stammer defines him. Why do you think he calls it "Hangman"? How does he learn to adapt to it? In what ways is the stammer a limitation and in what ways an advantage? Imagine Jason without a stammer–how would the novel be different?
Author: Katherine Preston
Genre: Memoir
The low-down: This is a wonderful first person memoir by a young writer who has stuttered for most of her life. She tried various speech therapies and had various success. As a young adult she decides to interview hundreds of others who stutter, and by doing so learns to love herself and realize that stuttering has made her the person that she is today.
The bibliophile's review: I really, really enjoyed this book. I've become a big fan of memoirs in the last year, especially those that sound like they could be bloggers. The author of this book seamlessly weaves her own history and feelings along with the stories of the many others that she has interviewed. The book flowed very well and I read it in just a few hours time.
The SLP's review: Working with students that stutter is not an area in which I am very comfortable. I loved how the author discussed many of the different treatment options out there and where she falls on the issues. I appreciate that she neither blames speech pathologists for not "curing" her, nor does she feel like they ought to have done so. I actually feel that this is a book I might refer back to when determining treatment ideas for my next student with disfluencies.
Overall rating: 4/5
Quotes to ponder:
"I have never stuttered in a room on my own, and I have never stuttered in front of an animal. I have always known what my fluent voice sounds like, have always known that it exists somewhere inside of me." (page 6)

"'What distinguishes us from apes is verbal language,' explains the author David Shields. 'If you are having trouble with that part of yourself, at its worst, it can make you feel scarily inhuman. You feel like you're part human and part monster.'" (page 78)

"Our own success comes from believing that we are enough. As the research professor Brene Brown explained in her groundbreaking TED talk, 'It appears that vulnerability is the birthplace of joy, or creativity of belonging, of love.'"
Discussion question:
What do you feel was the biggest defining moment mentioned in this book. How do you feel like that defining moment changed (or didn't change) the author's feelings about her stuttering?
Author: Vince Vawter
Genre: Children's fiction/memoir
The low-down: This is a children's chapter book describing the summer of 1959 for an eleven year old in Memphis. The narrator takes over his friend's paper route for a month and during that time learns much more about himself, his family, and his speech than he had ever imagined.
The biblophile's review: I LOVED this book. I usually enjoy children's chapter books and read them from time to time, but this one was right up there with Wonder and Wonderstruck for me. The book covered so many important topics including racism, adoption, domestic violence, bullying, faith, and differing abilities. Before I had even finished the book, I told my 11-year-old daughter that I want her to read the book ASAP.
The SLP's review: I LOVED this book. The narrator's voice is so honest and clear about his stuttering and speech. He admits much more about his feelings and struggles than my students will ever tell me.
Overall rating: 5/5
Quotes to ponder:
"Voltaire was a French philosopher of two centuries past. He answered your questions quite well. 'La parole a été donnée à l'homme pour déguiser sa pensée.' It translates: Speech was given to man to disguise his thoughts." (page 63)

"I wish I had a book
That did not have an End.
I got to pick it up
And it is new again.

The words feel read
And mine to share.
They have no sound.
They have no air.

My voice is clear
And lets me speak.
My fear is gone.
I'm never weak.

My words all come
And right on time.
The words are true
The words are mine." (pages 108-109)
Discussion question:
During an interview, the author states, ""Paperboy" is an autobiographical novel, almost a memoir. I have had a speech impediment all my life. As a child I suffered with it. As an adult, it's a challenge that I welcome and find that it gives me a certain amount of inner strength." Why do you feel that the author now believe his stuttering gives him strength?
Next SLP Book Club:
The next SLP Book Club will focus on the topic of Down's Syndrome.
Make sure to COMMENT BELOW that you are IN for the next club so I include you on my email list!
Buy or check out the following books to discuss on April 28th (that gives you two months to read!):