Marvelous Children's Book Monday: Sheep Trick or Treat
Disclaimer: This post contains Amazon affiliate links.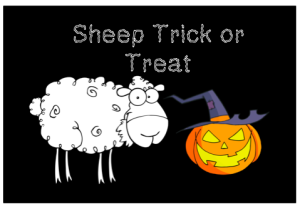 Sheep Trick or Treat

This could be the ideal book to use next month with my second-grade student working on /sh/ sounds! Our silly sheep friends decide to go trick-or-treating, create their own costumes, and fetch goodies at the near-by barn. Like other books by Nancy Shaw, this one is full of great rhymes and vocabulary that is even good for older age students.
Speech Therapy Ideas:
1. Working on articulation is obvious with this book. Both the /sh/ sounds and the /tr/ sounds can be elicited multiple times through the text by reading and describing the pictures.
2. There are some great vocabulary words in this book: disguises, rises, snip, drape, scraps, lanterns, amble, dell, bleat, pass it by, clover, rustling, skedaddle, settle down. Define the words, give examples, use them in sentences.
3. Work on rhyming by having the child guess the last word of the rhyming pair.
4. Retell the story. Where does the story take place? What is happening? Why are the wolves scared? Do the sheep know about the wolves?
5. Make your own sheep in costumes. Create a sheep paper doll, then use these costumes to dress the sheep up. Describe the costumes in detail.