Disclaimer: This post contains Amazon affiliate links.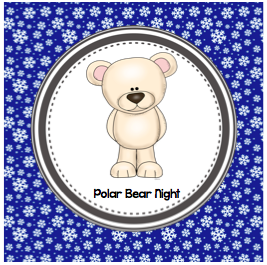 Clipart by KLouise DigiArt, JWIllustrations, and EduClips
I first encountered this book when Professor X brought it home from the library. He declared that it was one of the most beautifully illustrated books he had ever seen.
So of course I had to check it out.
The illustration style is actually quite unique and ideal for focusing the reader on the central images of each page. There is no extensive detail, but there is simplicity and clarity.
In this story, the little polar bear awakes, leaves his den, and takes a mid-night walk. He sees sleeping animals, the northern lights, and the moon. Then he returns home peacefully and goes to bed.
Just thinking about the book makes me sleepy. Although that could be due to the fact that I am writing this on a Monday morning…
Speech Therapy Ideas:
1. Practice simple sentences in the singular form: "The seal is sleeping. The whale is sleeping. The mother is sleeping." and plural forms: "The seals are sleeping. The whales are sleeping."
2. Practice vocabulary: keen, den, beckons, creeps, wonder, stir, snug.
3. This story makes for a simple retell for younger children. Have your child tell you what happened in the story and where the story takes place.
4. Make a Polar Bear craft. Here are a variety of craft ideas. Work on following directions and retelling directions. Use the idea "hear it, do it, teach it".
5. Learn more about Polar Bears. Learn about them here and here. Use these facts to make complete sentences and tell these new facts to others.