So. You want to eat some cookie dough.
Do I have the recipe for you!
I have a confession.
I deny my kids cookie dough, telling them facts about Salmonella, and other nasty illnesses.
Then, when they turn their back… I devour as much as I can.
But with this recipe, there is no need for hypocritical mothering. Because these wonderful cookies have NO eggs.
And they are sooooooo good (as dough or cooked). The red cranberries makes them great for holiday treats, but the coconut makes them feel like a summer snack.
Coconut-Cranberry Chews
3/4 cups butter at room temp
1 cup sugar
1 Tbs. grated orange peel
1 tsp vanilla
1 1/2 cups flour
1/2 tsp. baking powder
1/8 tsp. salt
3/4 cups dried cranberries
3/4 cups sweetened flaked dried coconut
1. In a large bowl, mix butter, sugar, orange peel, and vanilla until smooth.
2. In a medium bowl, mix flour, baking powder, and salt. Add to butter mixture, stir to mix, then beat on low speed until dough comes together, about 5 minutes. Will be very crumbly. Mix in cranberries and coconut.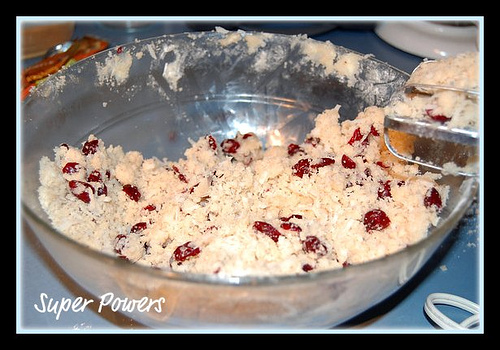 3. Eat some dough. Then eat some more.
4. Shape dough into 1 inch balls and place about 2 inches apart on buttered baking sheets.
5. Bake at 350 8-11 minutes or until just slightly browned.
6. Let cookies cool for 5 minutes before devouring baked cookies.
See more kitchen tips here.