Print out this cute, free game I created!
Directions:
1. Print out at least 4+ sets of the cards on cardstock or thick paper. Laminate and cut out.
2. Place all cards face down on the table.
3. Take turns taking a card. Either call out "Lucky Leprechaun" or "Unlucky Leprechaun" with good /l/ sounds. If "Unlucky", explain why in a sentence.
4. The player at the end of the game with the most Lucky Leprechauns is the winner!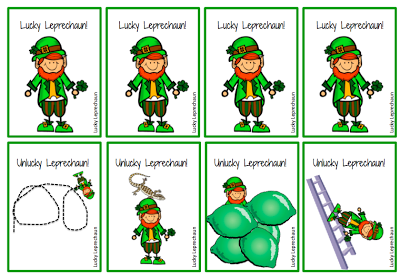 I really hope that at least you (if not the kids) can catch the humor in all the "Unlucky" scenarios that I created. They all have /l/ sounds in them… hope you can figure them out! 🙂
Click here for this freebie!