How to use a mini core board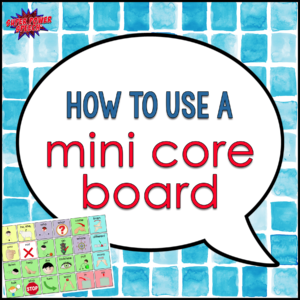 Have you ever considered attaching a core board to your body? Since we are often on the move with students, having one on you at all times would be amazing. But short of tattooing the board to your arm, how could one ensure constant access to core communication boards?
This is the question I was posed early in the school year. We are currently using a large classroom-sized core board for whole group instruction, personal communication flip books for individuals, but lacked something that would work well with transitions. On many occasions, we would put the core board down, walk to help a different student, and then realize we were no longer holding our communication boards. Although we had visual flip cards, these are cumbersome for searching for the right word and do not facilitate multiple word utterances.
To solve this problem, several SLPs in my district sat down together and brainstormed using mini core boards. We then determined that we could attach these core boards to our bodies (hands-free!) and have them on us at all times during the school day. I provided a brief training (with follow up every month) about the use of core vocabulary and gave every sped staff member (and there are a LOT of us!) a core board with the instructions, "Use it!"
I now love my mini core and feel naked when I do not have it. I am also proud to report that our staff consistently wears theirs throughout the day as a part of their "uniform". We are working on continued training and positive reinforcement to help staff remember to use them consistently.
Watch this short video on mini core boards to see how I use them during the day:
Advantages of a mini core board:
Core vocabulary access all day every day
Perfect for modeling as you move around the classroom
Nothing to forget in the hall during transitions
Small enough to be out of the way, while big enough to be visible (close up)
Visuals for directions (instead of repeated verbal instructions that so many of our students cannot easily process)
And because my staff is creative, they have come up with a variety of ways to wear their mini core boards: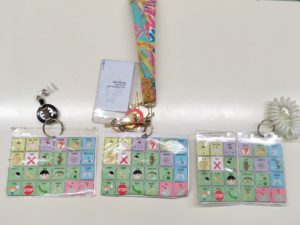 If you are interested in your own set of mini core boards (including visual directions on the back!), they are now included in my Communication Flip books Set!
[activecampaign form=9]