Tricks of the Trade Blog Hop

Disclaimer: This post contains Amazon affiliate links.
Keeping Supplies Handy!
First, let me begin by saying that I know I'm one of the luckiest school-based SLPs ever! I have my own room and it even contains windows! And cabinets! And running water! But that aside, I still travel a lot including:
To keep the supplies that I need handy at all times I've developed  a few tricks:
1. Always wear your supplies.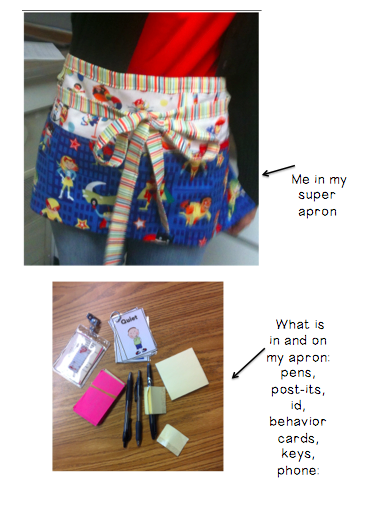 I started a fab trend at my school years ago by wearing a half-apron (I buy them from here… and oh my gosh she now has an Zombie Apocalypse apron!!!!). I now own about 5 of them. They are my life support since my clothes often do not have pockets, and even when they do have pockets, there is no way I could fit all of my supplies inside my pants!
2. Carry around extra supplies.
My fall student intern got this handy clipboard for me. On the front I keep my (most recent) schedule. Inside I keep extra supplies like reinforcement pages, markers, and discipline referrals (not that I'd EVER need them! ha!).
3. Use what you've already got.
For me that would be my phone. Up until last month, it was an iTouch, unable to make actual phone calls. But I still used it constantly! I have my schedule on the lock screen, my ever-changing calendar in it, and I use it for pictures all the time.
These are the tips that make my work life much easier and much more convenient! Do you do any of these?
Here is my letter for your Blog Hoppy goodness!