Co-teaching Social Skills

Last year, my special education teacher and I brainstormed ways to serve our students with multiple needs. Many of these students have reading, writing, math, speech, social skills, and behavior goals. There are not enough hours in the school week to meet these needs.
So… being the brilliant and cooperative colleagues that we are, we decided to co-teach our social skills group. For thirty minutes each week, the sped teacher, myself, and several instructional assistants gather around these four kids (there is often a 1:1 ratio!) and try to engage them.
Last year was a bust. We tried to do role plays. We tried to do books. We tried everything that we could think of. Instead of participating, one kid would often start galloping back and forth across the classroom while blaring out musical songs. Another student would start burping repeatedly. Another would growl like a dinosaur, repeatedly.
This year, we hit the jack pot and found some new lessons intended for preschoolers. Even though our students were in 2nd and 3rd grade, we figured it was worth trying a new approach.
It. Worked. Beautifully.
These kids are now participating in social skills group! They talk about the characters outside of lesson time. One of the kids will only enter the room when it is time for Social Skills group. And other teachers actually come in to group to watch these lessons. We are that popular. And awesome.
The problem was that there were limited lessons. And we ran out. For Christmas I received some puppets. A turtle, flamingo, and octopus. What am I to do? Well, use the turtle and flamingo and make up my own lesson plans! I named the turtle Tilly and the Flamingo,  Frank. Maybe Oscar, the octopus, will show up in guest appearances in the future. 😉
Maybe you too can get lucky enough to co-teach with an awesome colleague! Or bring these lessons into a whole group setting. They are adaptable to fit many chronological ages. And who doesn't love puppets?! Buy some at the dollar store, or just use the print outs that I provide in the packet with a popsicle stick on the back.

Here is my new creation! 5 full lesson plans with scripts, reproducible pages, and home/school connection pages. These 5 social skills lessons are designed to be 30 minutes each and engage children functioning at the 4-6 year old level. Can be used in a small or large group.  Use any puppets for a monologue lesson introducing the topic and two short puppet shows. There are reproducible craft projects and/or games to support each lesson.
Lesson topics (can be presented in any order):
-I Do My Work
-I Interrupt Politely
-I Keep My Hands to Myself
-I Speak with a Good Volume
-I Use Nice Words
All lessons follow a similar plan to "I Do My Work" (instructions):
-Introduce the lesson with Frank. (page 2)
-Present puppet show thumbs up example with questions. (page 3)
-Present puppet show thumbs down example with questions. (page 4)
-Read social story. (pages 5-8)
-Do gluing project of cutting out and ordering pieces of the social story. (page 9)
-Do drawing project. (page 10)

For each lesson there is an instruction page, a script for the lesson introduction, a "thumbs up" puppet show script example, and a "thumbs down" puppet show script example.

Each lesson includes a social story book (6-8 pages long) to be read to the group and a gluing activity (sorting and gluing the important parts of the story) that can be brought home for home/school connection.


Several of the lessons include a game/activity, such as the Voice Meter Game (below)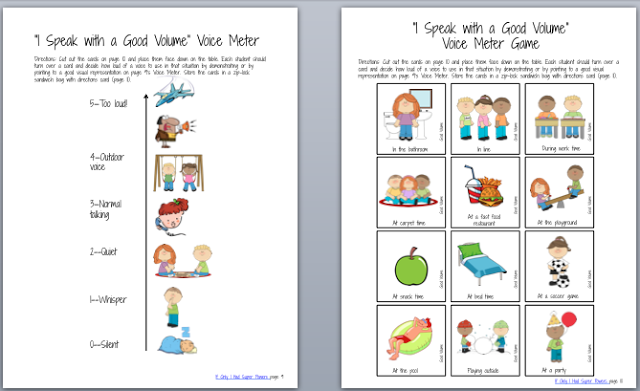 Go here to pick up my new creation and support my work!
Inspired by the lessons at: Connectability.ca Kids
Graphics by: My Cute Graphics and Graphics Factory