How to tick off a Speech Pathologist
I recently decided I want to homeschool-preschool my daughter.
You know, while I'm working full time. Cuz that'll be super easy.
So yesterday I bought $10 worth of materials for her to master at-home while I'm at work and Professor X is resting. These materials included a bright and fun ABC poster. (I also figured this would be useful for The Flash who is still learning the differences between lower case and capital letters in his writing).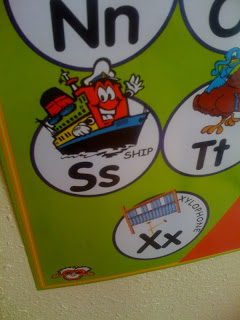 Overall the poster is great. I love the colors and the pictures are fun. But letter "S" here gets me really riled up. What kind of *** would use a "sh" ʃ sound to represent the letter "S"? Will my daughter now being reading that the "Shun ish up in the shky?"

Oh, and while on this tirade, please do NOT create an "alliteration" that does not contain all the same initial sounds.
"Carrie climbs cement ceilings" is not an alliteration in my book.