Secrets for Modeling Language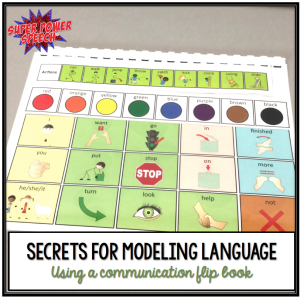 The difficulty with verbal language for many children with language disorders is that it is fleeting and invisible. Communication boards make that language visual, and permanent and give clear delineations between different words. My students with low language skills need as many cues as possible. Modeling language with communication boards and books makes understanding language an easier task.
My jaw dropped the day that I first saw a minimally verbal student follow my example and point to words on his communication board. Then when he added his tiny voice to his pointing, the tears welled up. I had only been modeling language with the communication board for 15 minutes, but his brain was ready for this next step and he leaped! That was an emotional moment. And I have had several more like that over the years.
Secrets for modeling language with communication flipbooks:
Speak slowly. Never speak faster than you can point to words. Students need time to process the visual and verbal cues that you are giving them.
Use core vocabulary from the book. When possible, use the pronouns, verbs, and adjectives on your main page. I will often alter my directions or readings to have core words better represented. Using your main words over and over will help your students retain and use these words themselves.
Use familiar fringe vocabulary. There are thousands of possible fringe vocabulary words, but your goal is to highlight the most important words. Use the words that are familiar in your student's environment.
Help your student use the communication book. Use models, prompts, and/or hand-over-hand assistance to help students point to words as you say them.
Make the communication flipbooks available at all times. No one learns a language when they are only exposed to it for a few minutes once or twice a week. Children need constant modeling by adults and peers throughout the day.
Don't be afraid to use some words that aren't in the book. Many words that we use in speech are not core vocabulary. Articles, conjunctions, and "to be" verbs are used throughout our verbal speech but are not beginning words for communicators. Don't make your verbal language ungrammatical or robotic in an attempt to only use words in the book.
Make a video of how to use the communication flipbook and share it with teachers and family. Most adults are not familiar with how to use the book and need to be taught. They also need to "buy-in" to the book's purpose so that they will be more likely to use it.
Looking for a great communication flipbook, check this one out!
My daughter and I set up a role-play situation of modeling language. Check out this video of my daughter and I practicing language modeling.  Watch more videos like this one here.
I think I've tried almost every single communication book out there. I've spent time creating photo album communication books, tri-folds, multiple page Velcro books, PODD books. The list goes on and on. Many of these boards and books I have spent hours creating, only to abandon after a few weeks because they are too big, too small, don't have the right fringe vocabulary, or just aren't working.
Last year, I tried a different approach. I made a communication flipbook with core vocabulary on the main page, and fringe vocabulary on top. My most frequent fringe vocabulary was actually attached to the board. The rest was actually placed on the toy bins to which they referred. See my post here for details. After using this system for several months, I realized that this method actually worked for me! It was lightweight, contained all the main vocabulary that I needed, and kept me organized for many activities.
I wrote a post about how to make your own flipbooks. However, after multiple inquiries, I decided to make one for you! The pictures represent core vocabulary for AAC users including pronouns, actions, and several descriptors. The words are colored using the Modified Fitzgerald color-coding system (pronouns = yellow, verbs = green, adjectives = blue, etc.). There are 16 strips of fringe vocabulary including actions, descriptors, prepositions, school words, art activities, and some play activities. The best part about these communication flipbooks is how customizable they are! You can add and subtract core vocabulary easily and flip through pages with ease!
Please watch the video that I  made describing the steps to make your communication flipbook!
See more videos and ideas here!