Engage AAC users with a manipulative core board!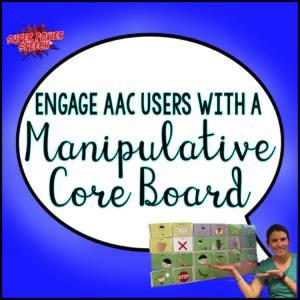 Although picture exchange can be an effective communication system for some individuals (Tien, 2008), there are limitations to its use (Flippin et al, 2010). This includes the fact that comments are not introduced until phase IV of training, and protests and refusals are not directly taught.
Core vocabulary, on the other hand, is not a set of nouns for requesting. It is a small set of highly used words that can be used across environments and partners to facilitate communication (Cross, Baker, Klotz & Badman, 1997). My experience with static core vocabulary boards, however, is that these are not always effective when working with students who struggle with joint attention.
During a conference, featuring the amazing SLP Gail Tatenhove, I was introduced to Megan Brazas and her Core Vocabulary Exchange System (Brazas and Bourke, 2016). Although I did not want to replicate her original and amazing products, I was immediately inspired to add to my own communication boards. I began with using my circle time communication folder. From there, I moved onto a large (classroom size) communication board.
Watch this video to see how you too can make your communication boards more interactive and help students with joint attention. To purchase the small and big core boards in this video, click here.
/