The Magic of Fairy Tales in Speech Therapy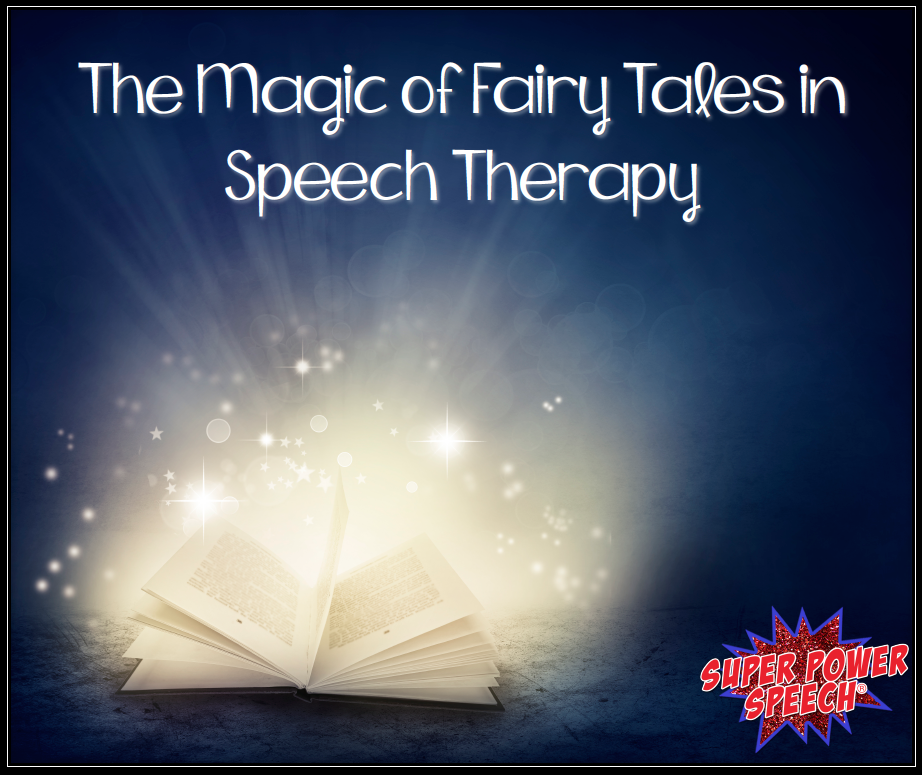 I adore fairy tales. But this was not always the case. I was born in the mid-70s, which means that Disney's classic fairy tales were ancient, and Hollywood had not yet created the modern era of movie fairy tales. This all changed in 1989 with the release of The Little Mermaid. I was entranced. I was already a swimmer and now I was bound and determined to be a mermaid, lose my voice, and marry my prince.
My love of fairy tales continues to this day. Although a biology major, in college I took a course on fairy tales from the French Department. Luckily, it was taught in English. I have seen and read most classic and modern fairy tales out there. My husband and I even had our first dance as a married couple to the theme song in The Princess Bride.
It is not a surprise, therefore, that I would incorporate fairy tales into my speech therapy. I've created numerous RTI units that include fairy tales and have been working on incorporating more fairy tales into my materials.
The Magic of Fairy Tales in Speech Therapy!
1. Fairy tales give children stories to retell with a clear beginning, middle, and end.
Many of my students are working on retelling skills and fairy tales provide them with a memorable way to work on and practice these skills.
2. Many classic fairy tales are unfamiliar to today's children, but familiar to their parents.
This makes a win-win for teaching the children a new story, but also having parents practice this same story at home. If a student already knows a story, it is difficult to tease out previous knowledge from new learning (vocabulary, retell, details), however, with a new tale, all the information is novel. Parents can practice these same skills at home with their children because they are already familiar with the tale.
3. Fairy tales are ideal teaching situations for inferring information.
Unlike Aeosop's fables, most fairy tales do not directly teach the moral. Children must process the story and determine the lesson(s) to be learned. They must use inferring skills to determine the intentions of characters, the mistakes that are made, and the outcome.
4. Fairy tales are short.
I love Greek myths and really wanted to use them with my older students. The problem? They are so long! It would take multiple therapy sessions just to get through one myth (and explain all the background information). You can get through most fairy tales in 10 minutes or less, which leaves plenty of time for learning and discussion within a speech group!
5. Fairy tales beget more tales.
After students are familiar with a tale, it is easy to start changing the story into something new. Change the characters to animals. Change the setting to a city. Alter the gender of the hero. When we were still dating, my husband gave me the book (Amazon affiliate link) Politically Correct Bedtime Stories. I still adore how this book (and so many others like it) takes familiar stories and completely changes them. Our students can do this too with some prompts and supports!
Looking for magical materials to accompany a fairy tale? Check out the Cinder's Book Companion!
Because I love fairy tales, and I adore fairy tales that have been creatively altered (think "Frozen" from "The Snow Queen"), I found a variation of Cinderella from one of my all time favorite children's author's illustrators EVER, Jan Brett. And of course I made a book companion to go with the story! Buy your copy of this book companion HERE.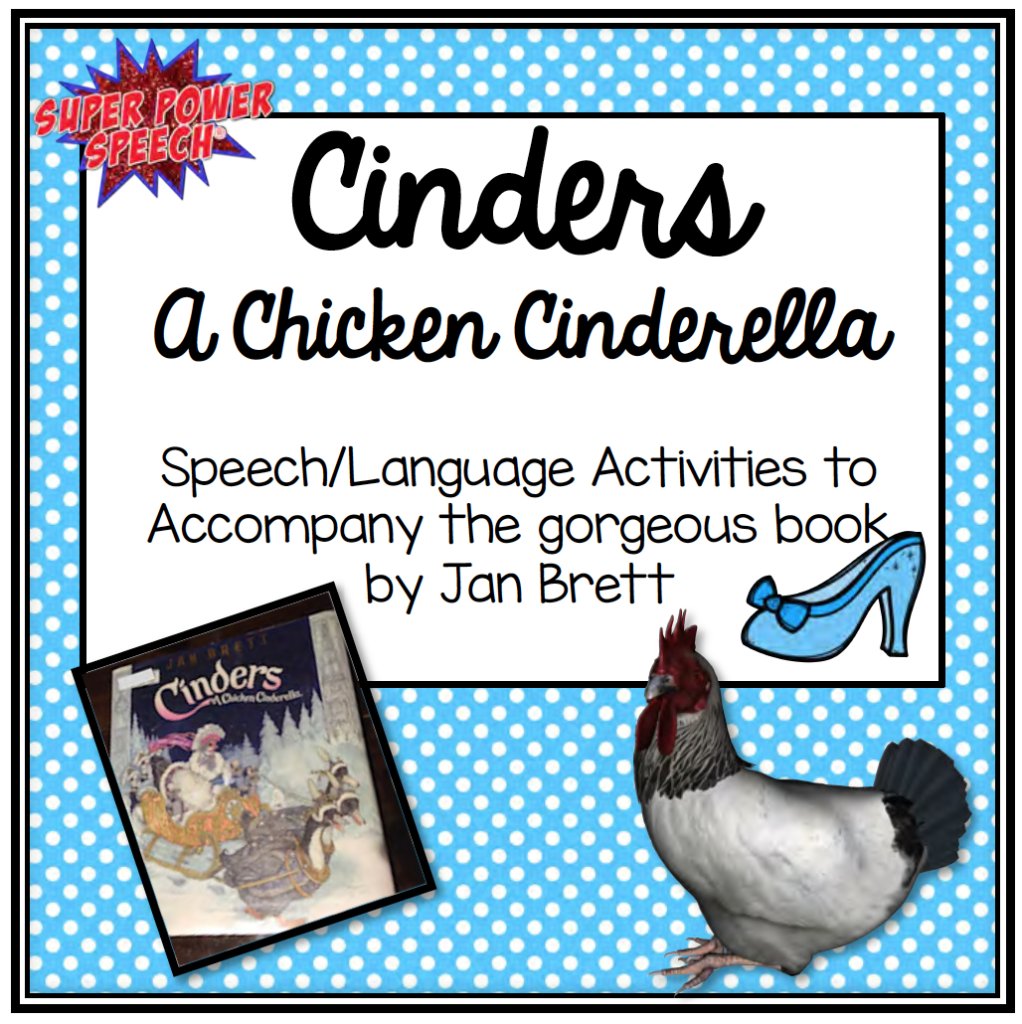 Like all of Jan Brett's books, Cinders, is beautifully illustrated and full of amazing vocabulary! Note that the book does not come with my product. I got my copy from the library, but I may be purchasing the hard back version soon.
My book companion includes levels for PreK up through 5th grade language level! Plus more articulation cards than usual 🙂 You can use this one with all of your mixed groups!
Articulation: I added /k,g/ cards to this mix because I have a few students this year working on these sounds!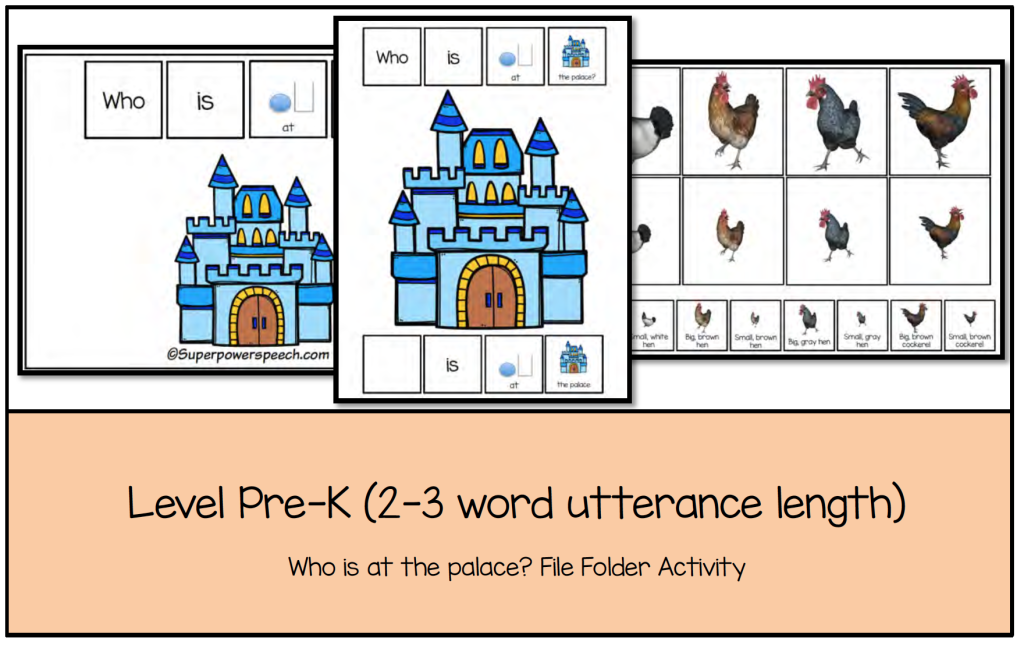 This file folder activity is perfect for my self-contained students!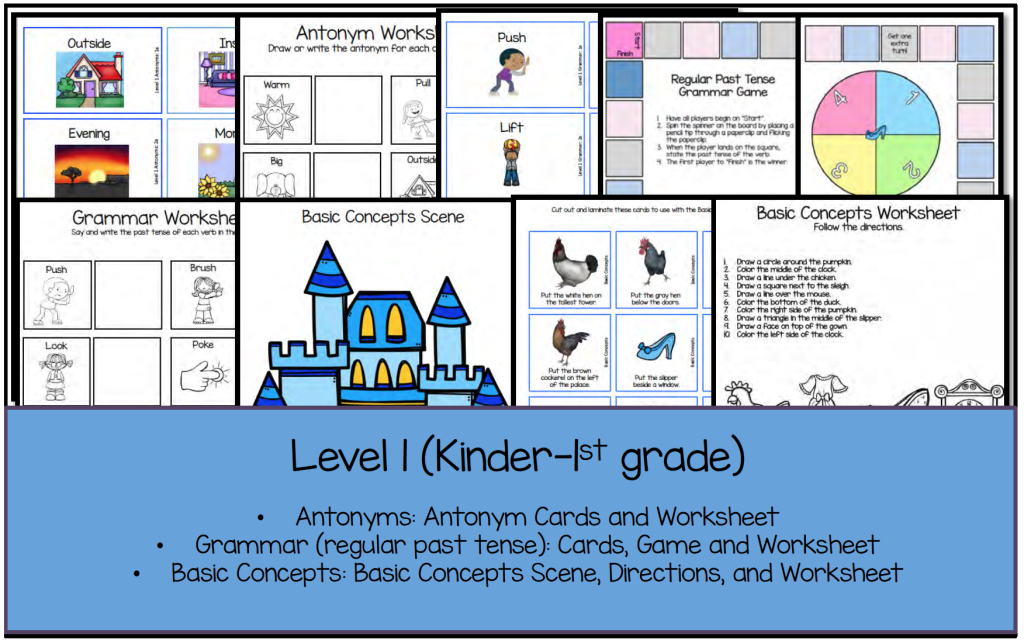 Level one includes multiple activities for those Kinder and 1st grade students working on antonyms, basic grammar, basic concepts (one step).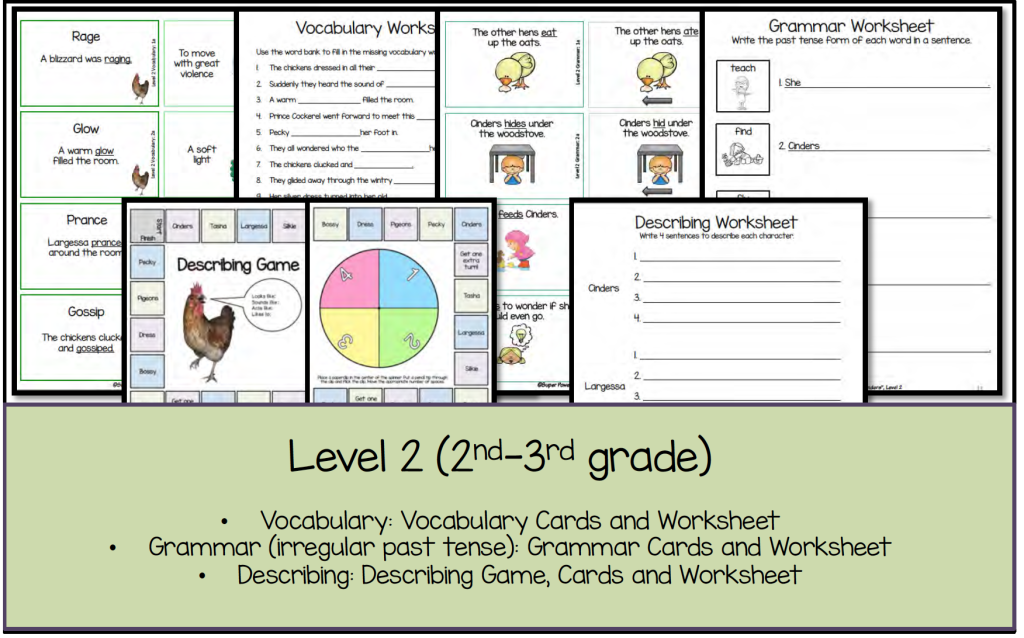 Level 2 gets more complex with harder vocabulary, irregular past tense, and describing in multiple ways.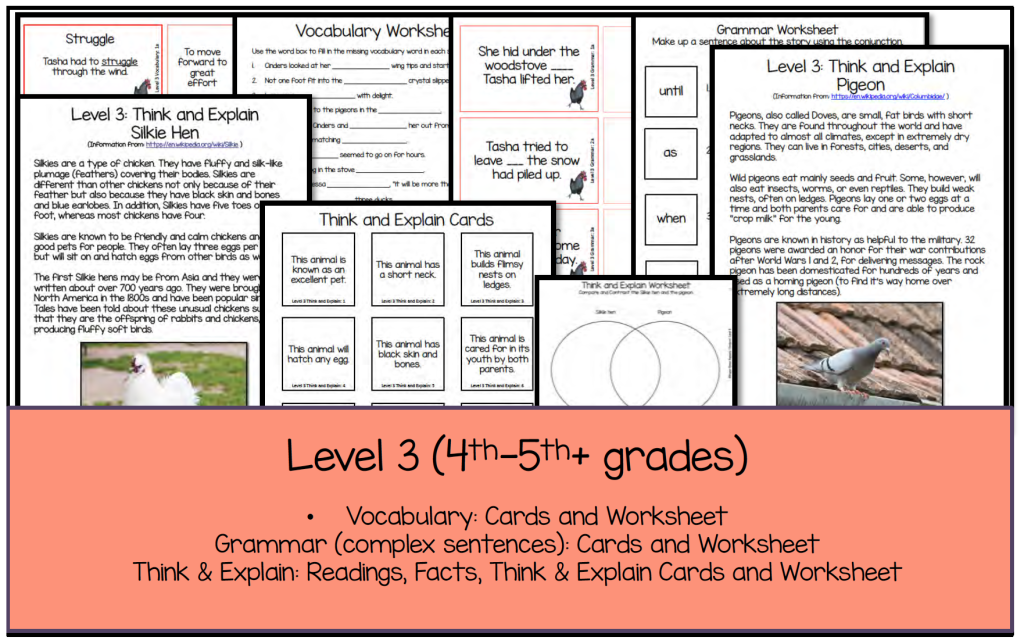 Level 3 is appropriate for higher level language students who are working on comparing/contrasting reading passages, complex sentences, and difficult vocabulary. Funny side note – after I wrote my "Think and Explain" about Silkie Hens, I started doing online research about getting one as a pet! So… in a few months I may have some Super Hens in my yard!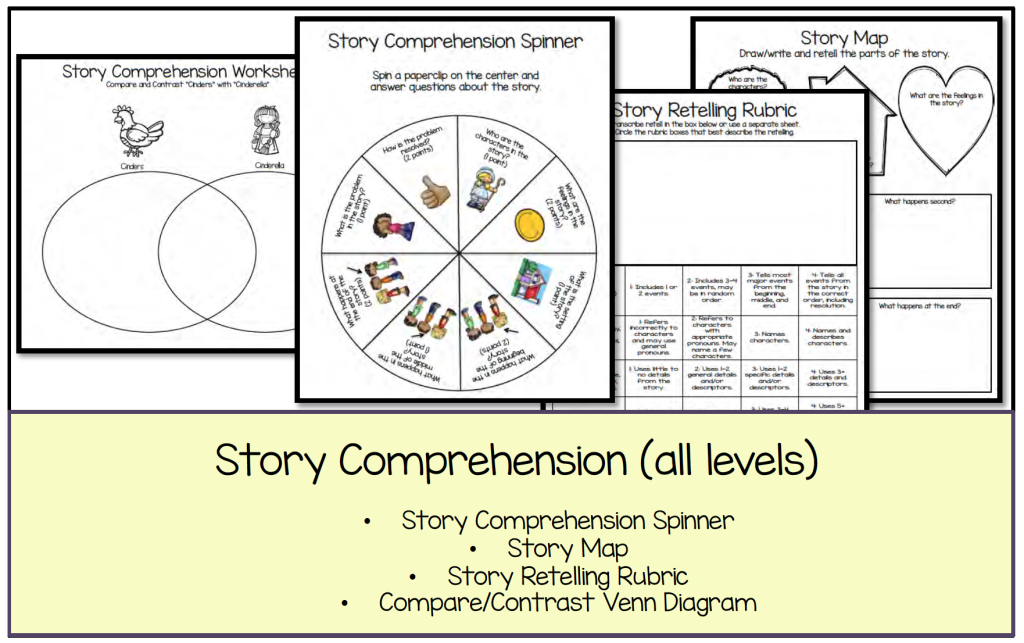 Fairy tales are perfect for story comprehension and retelling. These basic activities are appropriate for all levels of students.
Get the book Cinders and my book companion (HERE) and you are set with almost a month's worth of activities! Have fun and may the fairy tale magic continue with you and your students!
Comment below: What are YOUR favorite fairy tales?