The end of the world is near!
Disclaimer: This post contains affiliate links.
As you hopefully have heard, Friday will be the End of the world. Since this is also my first day of Winter Break, that pretty much sucks.
So there are a few things I must share with you before the End occurs.
First, the world's best holiday cookies. I admit that I am no food photographer (gasp!), but you have to give these cookies a try. Preferably today since tomorrow will be the last day to enjoy them.
I adapted this recipe from here.
Double Chocolate Peppermint Cookies


Ingredients:
1 cup butter (softened)
1.5 cups brown sugar
2 eggs
1 tsp peppermint extract
2 cups flour
1/2 cup unsweetened cocoa powder
1/2 tsp baking soda
1/2 tsp baking powder
1/2 tsp salt
2 cups chocolate chips
1 cup candy canes broken into tiny bits (I enjoy taking the baby candy canes and then getting out all my aggression on them)
Directions:
1. Mix butter and brown sugar until deliciously light and fluffy. Add eggs and peppermint extract. Try not to sample (because of salmonella risks)
2. Dump on top (I hate using 2 bowls!) flour, cocoa powder, baking soda, baking powder and salt. Mix until well combined.
3. Stir in the chocolate chips and candy cane bits.
4. Refrigerate/freeze until semi-solid (this is REALLY hard to wait for!)
5. Form small balls (1 inch) and space 1.5-2 inches apart on baking sheet.
6. Bake at 400 degrees (sorry! I guess you should have pre-heated the oven first!) for 6-9 minutes.
Second, a new Speech unit I developed last weekend. I used the book Owl Moon (winner of the 1988 Caldecott Medal) for this literature based unit.


I made this one different than my other literacy-based units because there are no cards. No laminating. No color printing. This is designed to be worksheets to support speech and language with a focus on literature. It is also my shortest unit, only 11 pages. I hope that this will be exactly what someone out there is looking for!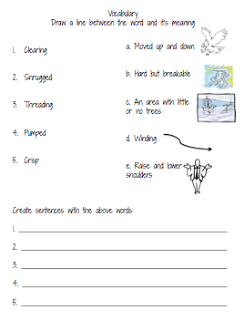 There are not many higher-level vocabulary words in this book. So I took 5 words from the story that I felt were worth knowing and made them into a matching activity, plus create your own sentences with the vocabulary activity.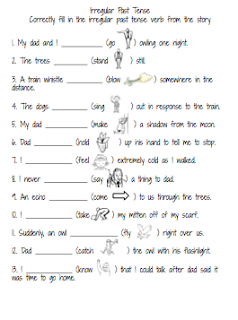 One page of irregular past tense verb sentences that help retell the story (this is a FREE download under "Download Preview").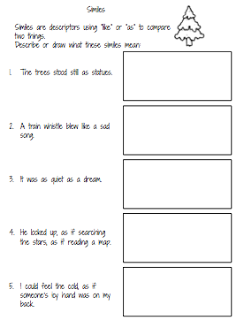 Two pages of similes: one directly from the story and one in which the students complete their own similes.


Two pages of metaphors: one directly from the story and one in which the students complete their own metaphors.


A page of describing the setting and characters.


A story map page to fill in and help retell the story.


A listening comprehension page. The Speech-Language Pathologist reads the text aloud and then asks students to recall the information. This can be done in writing or verbally.


A page of /r, s, z, l/ articulation from the book.


A page to create sentences with the articulation words from the story.
Go get the whole thing here (and you'd better hurry!!).
Even though the world is ending and all, I hope that this is exactly what someone out there is looking for. A no-laminating, non-colored ink, literacy-based speech therapy unit!
Like what you see? Like me on Facebook to get deals, Freebies, and extra doses of my warped humor.