Disclaimer: This post contains Amazon affiliate links.
Throughout my childhood I vividly remember Thanksgiving as the annual holiday when I ate potatoes. Lots and LOTS of mashed potatoes. Eventually I grew to love pumpkin pie and that was added to my meal.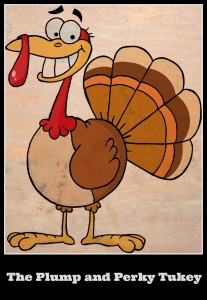 And that was it.
Even now I'd prefer a honey-baked ham over a turkey any day.
It is little wonder that I adore the rhyming book A Plump and Perky Turkey. It is about a clever turkey who outsmarts an entire New England town. Shredded wheat for Thanksgiving? No problem (so long as there are mashed potatoes and pumpkin pie!).
Speech Therapy Ideas:
1. Practice articulation words before, during, and after reading this story. Here are some of the words that I picked out of the story.

2. Identify and explain turkey idioms such as:
"go cold turkey"
"talk turkey"
"turkey" (as in "You turkey!")
3. Practice vocabulary within the story. Identify meanings, tell meanings aloud, determine synonyms, match words to pictures. I made a 3 page chart of vocabulary words. Here is a screen shot of a few of them:

4. Answer story comprehension questions:
Who:
Who are the main characters in the story?
Who has the great idea?
Who decides to be the model and makes the towns people happy?
What:
What do the people in Squawk Valley want?
What do the people in Squawk Valley NOT want to eat?
What does Pete take as his payment for modeling?
What kind of activity do the people hold?
What is the plan for tricking a turkey?
Where:
Where does the story take place?
Where are all the turkeys going?
Where do the posters go?
When?
When does the story take place?
When does Pete disappear?
Why?
Why are the turkeys hard to find at Thanksgiving time?
Why does Pete hide?
Why do the people want to trick a turkey into their town?
5. Retell the story including characters, setting, problem, events, resolution.
6. Just for fun, make some turkey origami!