After The Flash tragically broke my $40 necklace, I was irate. I stomped so hard on the ground that I hurt my hip for 2 days. If I had super powers, I probably would have broken through our wood floor.
When Professor X and I had calmed down, we decided on a consequence that seemed somewhat fitting of the crime.
The Flash had to pay Professor X one hour of manual labor for the hour he spent fixing the necklace.
And he had to play me one hour of manual labor for the grief I experienced.
He was not allowed to do any fun activities (videos, playdates, etc.) until he had completed his work. He hated this idea and was eager to get his two hours out of the way. So here's what he did:
folded three baskets of laundry
dusted the house (primarily while lying on his belly????)
dusted the house again (to make up for the bad job on his belly)
cleaned windows
But these tasks only added up to 90 minutes. What else could he do to complete his sentence?
Weed the garden of course.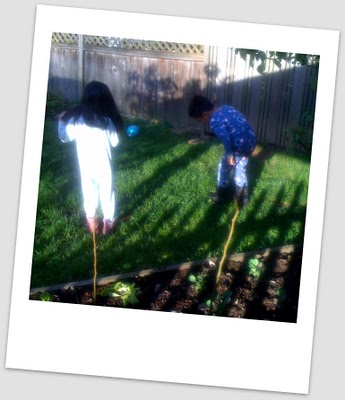 At 7 in the morning. In his jammies and snow boots. With a pair of loppers. And recruit his sister to help.
I wish I could say this was a successful task, but since he pulled out exactly zero weeds, I could not count any of this time.
Alas, before the day was done he had served his time and was very happy to have it behind him.
I know that there will be many more consequences in store for him. I just need ideas as to how he can labor for us. Any suggestions?