Light, Mid, and High-Tech AAC. Same… but different
When many people refer to augmentative and alternative communication (AAC), they have something in particular in mind. They might be thinking of picture exchange. They might be thinking of an iPad app with a voice. They might be thinking of something else altogether. What many people do not realize, however, is that there are multiple kinds of aided AAC – light, mid, and high-tech.
LIGHT TECH AAC
In the past, people would often refer to AAC that was paper-based as "low tech." However, we know that the word "low" frequently brings with it connotations of intelligence. The AAC community has been phasing out the word "low" and replacing it with "light." I love this adjective because it describes what these systems often are… light(weight!).
Light tech AAC is non-electronic communication system that is outside of one's body.
Examples:
alphabet boards
core communication boards (with and without fringe)
activity-based communication boards
communication books (including pragmatically organized books like PODD)
calendars
lists
photos/albums
picture exchange
eye gaze boards
WHAT ARE ADVANTAGES OF LIGHT TECH AAC?
There are so many great reasons to use light tech AAC as part of a robust communication system! These include:
Economical
Flexible options
Customized and developed over time
May be readily accepted by communication partners
Multiple access modalities (direct, eye gaze, manipulative, partner assisted)
Customizable vocabulary
Use in multiple locations due to ease of printing
Can be as big or small as needed
Easily replaceable
A qualitative study by Iacono et al. (2013) interviewed adults who use AAC and found that reasons they liked using light tech communication methods included the fact that they were less obstructive, allowed closer contact with communication partners, and lacked the breakdowns of high tech AAC.
WHAT ARE DISADVANTAGES OF LIGHT TECH AAC?
No voice output (additional sensory input lost)
Cannot "save" and "store
May be cumbersome to remake or add vocabulary
May be cumbersome to carry (I'm looking at you PODD books!)
Vocabulary may be limited
NEED MORE INFORMATION?
I have a series of blog posts about light tech communication systems that you can read here.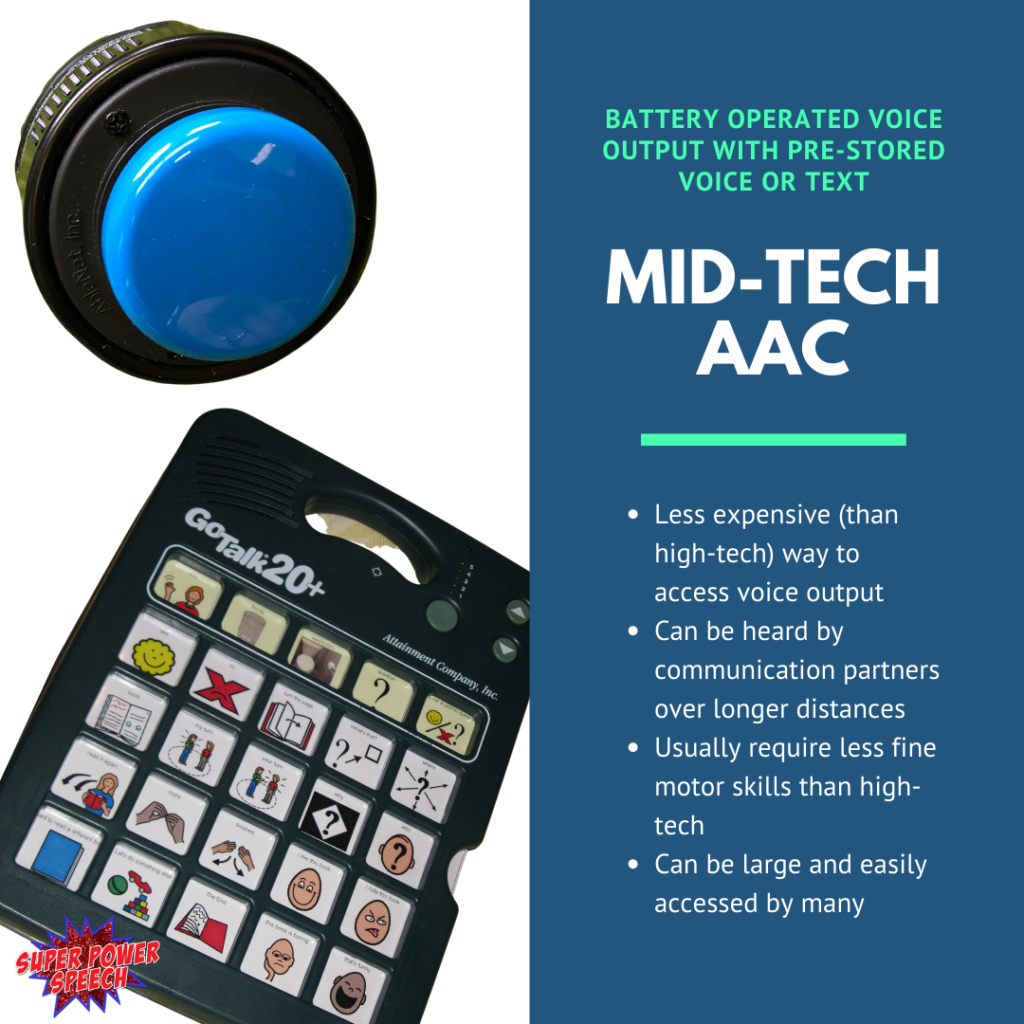 MID-TECH AAC
Mid-tech AAC uses batteries or electricity to speak pre-stored voice or text messages, often through the push of a button (Desch & Gaebler-Spira, 2008).
Examples of mid-tech AAC devices include
WHAT ARE ADVANTAGES OF MID-TECH AAC?
Mid-tech AAC devices are useful for participating in routines, social exchanges, and "correctly" answering questions. Examples of ways I've used mid-tech over the years include:
Greeting others
Telling jokes
Saying something during circle time (e.g., "the weather today is…)
Asking others a social question (e.g., "What is your favorite color? Do you want to play?")
Gaining attention
Mid-tech voice output is one great tool in a robust communication system because it is easy and quick to access, social, hearty, and predictable.
WHAT ARE DISADVANTAGES OF MID-TECH AAC?
Words must be pre-recorded before an activity
No opportunities for novel, generative utterances
Batteries must be replaced
Can be broken
Expensive (although less expensive than high-tech)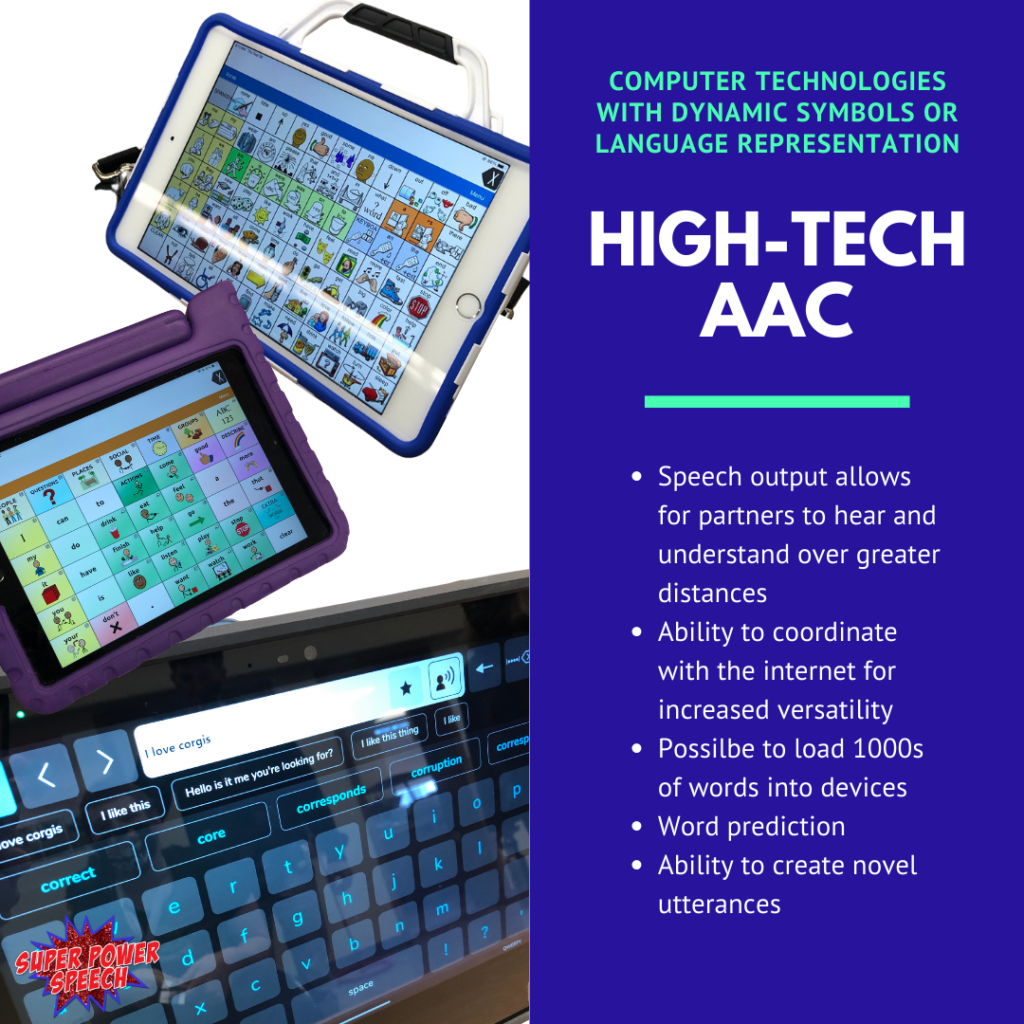 HIGH-TECH AAC
High-tech AAC is computer technologies that may include computers, keyboards, tablets with speakers, and special software. High-tech AAC typically has synthesized speech that can say anything programmed in with the language systems. High-tech software may be based on dynamic symbols or language representation.
Some major AAC suppliers provide complete devices with support services, training, and warranties (Prentke Romich, Saltillo) or iPad apps without hardware support (Proloquo, Coughdrop). High-tech AAC can be extremely expensive (upwards of $7000 for dedicated devices with warrantees); however, some apps are closer to $100 (if you provide your own tablet and support).
WHAT ARE ADVANTAGES OF HIGH-TECH AAC?
There are many reasons to use high-tech AAC as part of a robust communication system! These include:
Synthesized speech allows for any word in the language to be spoken at a variety of volume levels
Digital storage for thousands of words
Word prediction based on grammar, spelling, or category
Ability to create novel utterances of any length and complexity
WHAT ARE DISADVANTAGES OF HIGH-TECH AAC?
Devices break down
Devices must be charged regularly and cannot be used when uncharged
Training users and communication partners to use and program the device can be time-consuming
The weight of devices is prohibitive for some small users to carry
Cost can be substantial
Fatigue – some adult users of high tech AAC report significant fatigue after using their device
IS HIGH-TECH AAC WORTH THE COST?
This question is tricky. For some AAC users, it is absolutely worth it. Listen to an interview with a high-tech AAC user, and you will instantly realize how substantially this system has changed their lives. For others… not so much. AAC abandonment is a significant challenge across the field. Some researchers, however, feel that abandonment could be curtailed if communication partners bought into AAC by supporting the devices, provided opportunities for AAC use, and if systems included individualized vocabulary (Johnson et al., 2006).
WHAT SHOULD I USE WITH MY CLIENT/ STUDENT/ CHILD/ PARENT?
Unfortunately (or fortunately depending on how you look at it), there is no one perfect aided AAC system. Different types of AAC are useful in different environments and to fulfill different communication functions. This post provides simple information about each type of aided AAC and the advantages and disadvantages of each. How should one choose the right type for the individual? There are many factors to consider and these should be addressed as a team.
* Spoiler alert – most clients need all types of AAC depending on where they are and with whom they are communicating!