How to do an informal AAC assessment
Scenario: You have a six-year-old student who is mainly non-speaking and their evaluation is due in two months. The family would like to explore augmentative communication tools. Where do you start?
Have you experienced the joy (and challenges) of an AAC evaluation yet in your career? It can be an intimidating process for even those who claim to be "experts" in the field. Although there is a large learning curve to be completely independent in this process, any SLP with knowledge of language learning can participate and lead this process. In fact, there are a few differences between your "typical" speech/language assessment and an AAC assessment!
Where should one begin when evaluating a client who may need (or already uses) augmentative communication? First, the SLP needs to determine the type of evaluation that is going to take place. Here are some questions to answer:
Do you need standardized testing results?
Are you evaluating to explain current levels/abilities?
Are you evaluating to determine priorities and goals?
Is the purpose of the evaluation to trial different AAC systems?
Do you need standardized testing results?
Although most SLPs understand that standardized testing of children demonstrating early language skills is inaccurate and inappropriate, some states and districts continue to require normed scores. If you can avoid these tests, I recommend that you skip straight to informal assessment as they will yield much more helpful results. If you need to give a standardized assessment (with or without modifications), consider these guidelines:
Age-appropriate standardized language assessment: Use an age-appropriate standardized language assessment, such as the CELF, OWLs, or CASL. The results from the test will not be helpful, but if your agency requires a test, then there is no gold standard.
Receptive vocabulary assessment: Use a receptive vocabulary assessment to allow students to point to pictures. Some students who are unable to do a core assessment can participate in receptive pointing tasks. The PPVT (or similar) can be a measurement of one area of language knowledge.
Non-age-appropriate language assessment: Use a non-age-appropriate language assessment in which the child can participate. For example, some students can participate in the Preschool Language Scale, although they may be too old for normed scores. The test results can be explained by skills that the child has and has not yet mastered.
Are you evaluating to explain current levels/abilities?
If the goal of your assessment is to fully describe a child's communication skills, your time is much better spent completing informal assessments and observations of language knowledge. Your best observations will occur during highly motivating activities, so make sure to find out what these are!
1. Observations: Interact with/observe the child in at least two engaging activities. Note the child's ability to understand language and activities. What expressive language skills do they use and with which communication modalities? Are they using spontaneously using gestures, vocalizations, verbal words, AAC? What kinds of prompts does the child need to communicate and participate in the interaction? Take a language sample if possible.
2. Interviews: Interview one or more familiar communication partners. Ideally, this would be the primary caregiver, however, for school evaluations, you may need to focus on the primary teacher. Ask targeted questions about the child's communication modalities, and language knowledge (phonology, morphology, semantics, syntax, and pragmatics). If the child has an aided AAC system (light, mid, or high tech), ask questions about their operational competence. Can the child independently adjust volume, flip the pages, or keep the system near them?
3. Summarize the information: Based on the observations and interview, summarize the child's strengths, weaknesses, and areas that have the greatest impact on their education and quality of life. The SLP can include priority areas for goals. This is also an appropriate time to suggest a new or different AAC system if current communication needs are not being met.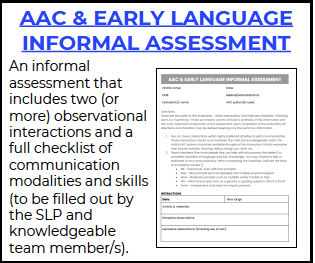 Are you evaluating to determine priorities and goals?
If there is no need for a full evaluation, a simpler checklist form of communication modalities, five areas of language, and operational skills may be sufficient.
Modalities: Describe the child's current communication modalities.
2. Language knowledge: What level of prompting does the child need for all language knowledge (phonology, morphology, semantics, syntax, and pragmatics)? A rating scale is sufficient for this exercise.
3. Operational skills: If the child is using aided AAC, what are their operational skills?
4. Priorities: What are the highest priority areas and next steps based on their current skills?
5. Baselines: From the priority areas, baseline measures must be obtained. One way to avoid an unrealistic and unmeasurable goal is to clearly measure and define the current levels.
6. Goals: Use the baseline measurement to write a SMART goal (specific, measurable, attainable, relevant, time-based). One example of SMART goal is: By 12/1/2022, Yen will increase their use of independent multi-modal two-word symbolic utterances from one to three times (within a 10-minute preferred activity), as measured three times by a trained communication partner.
Who: SuYen
What: use two-word symbolic utterances
What communication modality: multi-modal (any symbolic modality)
Under what conditions: preferred activity
How many times: 3 times in 10 minutes
How will it be measured: 3 times
By when should this goal be met: 12/1/2022
Who will measure: a trained communication partner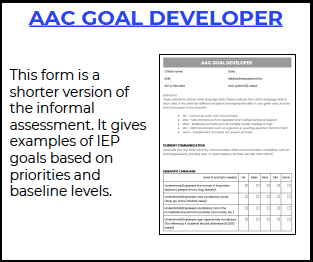 Is the purpose of the assessment to trial different AAC systems?
Adding or changing an AAC system and requesting insurance funding is the most involved of the AAC assessments. The goal is to "prove" to medical insurance that the child has a health need that is not currently being met but can be supported with a communication tool. There are many steps to the funding process and the evaluation write-up is typically long. If you are considering high-tech AAC, the major AAC companies have created funding pages and human specialists to help guide you through the report writing. 
1. Team input: Begin with input from the team. I recommend emailing a form to all team members to get their input on the child's strengths, weaknesses, communication needs, and direction to go next. Beginning with team input also gets the team all thinking bout communication before meeting together.
2. SETT: Meet with the team (in-person or virtually) to complete a SETT. The SETT framework was created by Joy Zabala to carefully consider each communicator's needs. It includes four components:
Student – Describe the child's abilities and needs. Go through the child's medical conditions and how that affects their communication (immediate and long-term).
Environment – Describe the communication environments of the child. Do they need to communicate in different locations (loud classroom, quiet resource room, school bus, home, community)?
Tasks – Describe the communication tasks that the child needs to accomplish. Frequently these can be described as the functions of communication (request, ask, answer, comment, social closeness). For insurance funding, it is critical that the child's need to communicate their health and medical status be explained in this section.
Tools – Describe the communication tools that have been or are currently being used by the child. What were the advantages and disadvantages of light, mid, and high-tech communication aids used in the past?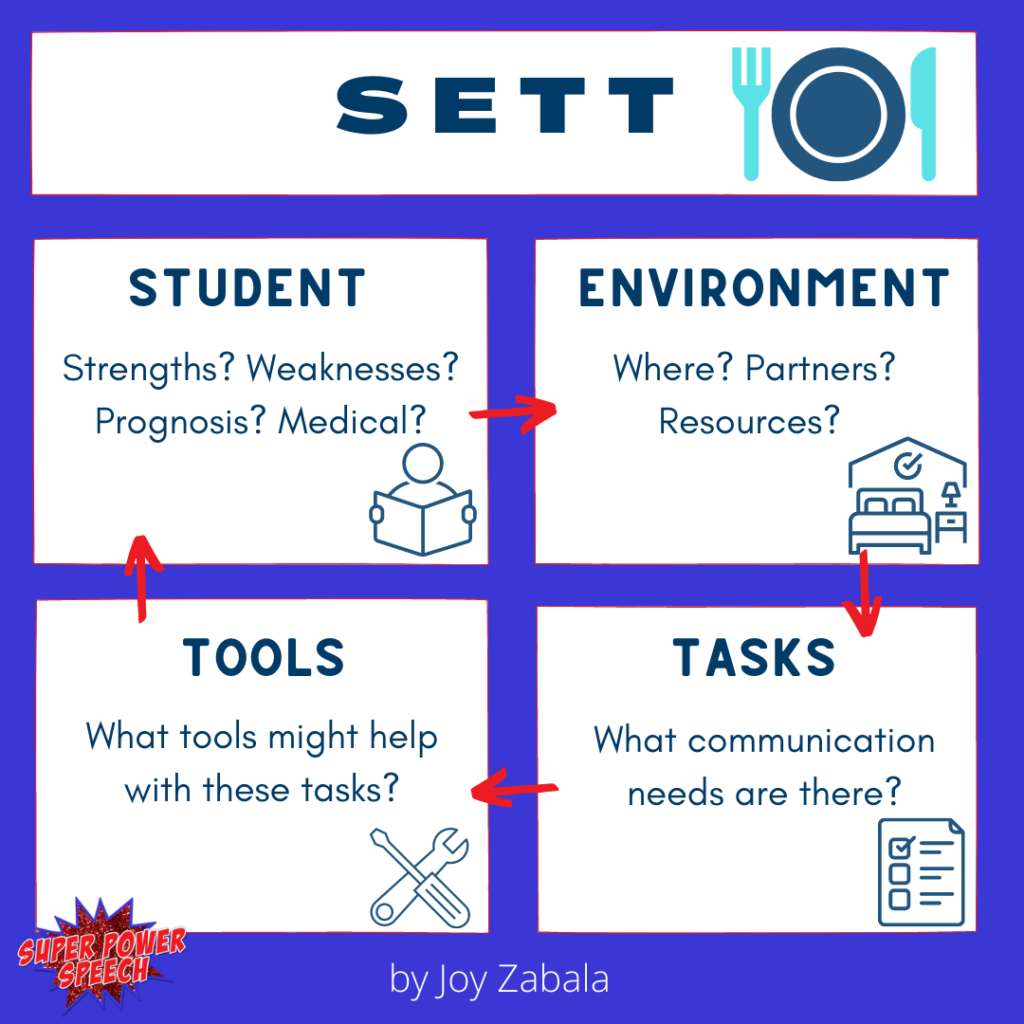 3. Features: Based on the SETT, determine the features that the child needs in an AAC system. These features will include what is needed for symbols, linguistics, voice, access, display, positioning, and operation. One resource for possible features can be found here.
4. Feature match: The team must then consider AAC tools that have some (or all of these features). There should be a list of multiple tools with a range of costs considered. One feature matching chart to be considered (for iOS apps) is from OMazingKids.
5. Plan: From the feature matching activity, a plan must be generated. Determine who will provide the AAC systems, who will train others, who will take data (and what data will be collected), and when the team will meet again.
6. Re-meet: Following trials for multiple devices (I would always recommend 3+ as some insurance providers require this at a minimum), the team meets again to discuss progress. The team compares and contrasts the trialed devices and whether to proceed with a funding request.
7. RecommendationWithin your team meeting, develop final recommendations. Determine a plan for training (child and communication partners), distributing the device, and ongoing therapy.
8. Funding report: If the team has enough information to make a decision on the best device for the child, insurance information and a doctor's prescription must be obtained. The SLP writing the report should contact the AAC vendor for additional information, templates, and support at this stage in the process.
Final thoughts
Assessing a student who uses (or you suspect should use) augmentative and alternative communication sounds scary. There are indeed many steps, as this is an important process. The most important components are to include as many team members as possible to get a full picture of the student and to trial multiple systems to make sure you are finding a good fit.
You've got this!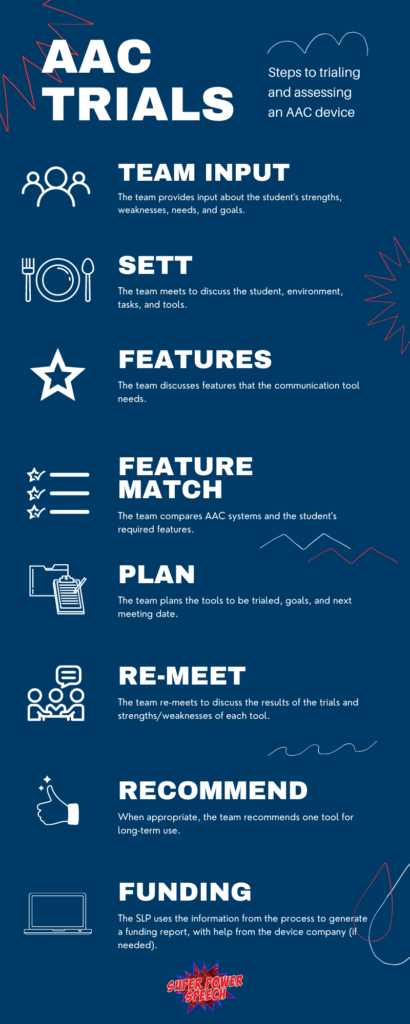 To purchase pre-made assessment templates and suggestions, check out my product, AAC Informal Assessments.