SLP Book Club: Ginny Moon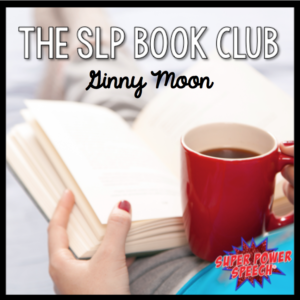 Welcome to the SLP Book Club!  This book club has been my dream and my baby as an SLP and a bibliophile. I am so excited to find others out there that want to explore new books with me and discuss them in the comfort of your jammies and slippers!
Now…Let's get this book party started!
How to participate:
Read my low-downs and questions.
Answer the discussion questions.
Add your own comments or questions.
Disclaimer: Amazon affiliate links included
---
How I heard about this book: The short answer is that I didn't! My son has been playing night soccer (7:30 – 9:00pm) and the only place close by for me to hang out, is the mall. My daughter and I hang out in the bookstore and look at books. This one caught my eye because it was "recommended by staff". I had no idea what it would be about when I picked it up.
Author: Benjamin Ludwig
Genre: Fiction
Summary:  A precocious teen with autism, Ginny, tries to make sense of her complicated world that includes adoption, birth parents, and high school.
Overall rating: 4/5
What I loved about this book: As an adoptive parent and speech pathologist, I felt my heart strings pulled on every single page of this book. I wanted Ginny to be loved so much at home, and when that was faltering, I could not blame Ginny or her forever parents. No joke, Ginny would be a tough cookie to live with. But through her own narrative, you can understand what Ginny is thinking and why she acts the way she does. The problem is that no one besides the reader can fully understand that.
Questions (and my answers… please add your answers in the comments):
1 – What makes Ginny unique?
Ginny's history in her birth home and subsequent "forever" homes gives her a perspective that many do not experience. She doesn't seem to understand what is permanent and what is temporary because everything in her life is temporary. Her need for rules, including the rule that she can only answer one question, make her an enigma to others, but help us as the reader to better understand her personality. Finally, her obsession with her "baby doll" makes everyone, including the reader, wonder what in the world is going on.
2 – What do you think about Ginny's determination to contact Gloria?
Although Ginny says that Gloria is "unreliable" and "hurts" her, I felt throughout the book that Ginny was just repeating what others had told her. I was never (until the end of the story) convinced that she understood the ramifications of those words. Since Ginny is desperate to be reunited with her "baby doll" and Gloria seems to be the only way to find her, it made sense that Ginny would persevere in her getting hold of her birth mother.
3 – What did you wish Ginny's Forever Mom and Forever Dad understood?
There are so many things I wanted to tell her forever parents during this book! I wanted to whisper to them that Ginny closes her mouth when she was trying to hide her thoughts. I wanted to tell them more about the "baby doll". I wanted them to understand that Ginny wasn't trying to betray them or break her bond with them. And mostly I wanted to tell them that Ginny would love and be so careful with her new forever sister and that no one needed to worry.
I loved this book. What made it even better for me is that the author became a forever parent of a girl with autism. It made the writing feel much more real, both from the perspective of parenting a child with special needs and also from navigating the world of adoption and attachment.
In the comments below, please answer the questions with your thoughts. I can't wait to hear what you thought about this book!