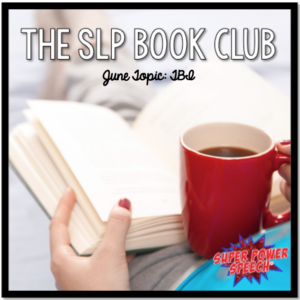 Welcome to our third SLP Book Club! If you are new to the SLP book club, head over to my introductory post in January. Our topic this month is Traumatic Brain Injury, which is near and dear to me after my friend's six year old suffered a severe TBI last fall and was hospitalized for months.
Disclaimer: Amazon affiliate links included
Author: Cristina Henriquez
Genre: Fiction

The low-down: This important cultural novel follows the lives of multiple immigrants living in the same apartment complex in Delaware. One of the main families immigrated from Mexico after their teen daughter has a Traumatic Brain Injury. They have heard that the "special" schools in the United States will best meet the needs of their now disabled daughter. This book is my county's current "Everybody Reads" book, a chosen book for the year to discuss as a community.
The bibliophile's review: This book should be read by every American. It is eye opening and profound. The heartaches of each individual and family are very real and I can imagine that many of the families with which I work go through these same struggles daily.
The SLP's review: I loved watching Maribel as she made gains in his speaking, socializing, and reasoning skills. She is brave in a way that most of us will never experience both because of her accident and healing, but also because of the cultural shock of a new country, language, and school system. Her parents' fight to provide the best life and school possible for Maribel is also important and gripping.
Overall review: 4/5
Quotes to ponder:
The doctors said her brain can heal, but they warned us she would never be the same again. (page 219)

And as I looked at her I saw that maybe she had been here all along. Not exactly the girl she used to be before the accident, which was the girl I thought I had been searching for, but my Maribel, brave and impetuous and kind. All this time I had been buried too far under my guilt to see her. (page 280)
Discussion questions:
What are some of the signs throughout the novel that Maribel is getting better?
Explain the relationship between Mayor and Maribel. Do you think it could have developed into something more?
Author: Cathy Crimmins
Genre: Memoir
The low-down: The author (Cathy Crimmins) of this book memoirs the tale of her husband's boating accident and the TBI that occurred. She narrates the journey of Alan's awful injury, time in ICU, time in rehab, and journey back home to resume his new life.
The bibliophile's review: This story is written with such detail and personality that I felt like I was living the experience with the family. I could visualize each doctor. I cringed at each agitation. I marveled when huge progress was made. If you do not enjoy memoirs, then this book is not for you. However, if you are interested in brain injury, then this book carefully takes you through one family's journey.
The SLP's review: As I read this book, I almost felt like I could have written it. When my father had a massive stroke at age 53, he went through many of the same stages as Alan. What I am most amazed about, however, is the level of recovery that Alan has by the end of the story. I would love to get feedback from an SLP who works with adults with TBI as to how typical this recovery actually is.
Overall review: 3/5
Quotes to ponder:
I'm not surprised that early accounts focused on his amazing physical recovery… That's where most stories of severe brain injury stop even today. Survival at a certain functional level seems miraculous, but it's the part that comes afterward that's hardest for the patient and his family and friends — the process of adjusting to the chronic, long-term cognitive side effects of TBI and carving out a life for oneself after significant personality changes. (page 181)

Brain injury, Alan and I often say, is the gift that keep on giving. (page 240)
Discussion questions:
If you were Cathy Crimmins, would you have chosen to move Alan from Canada to the USA? Why or why not?
When during Alan's recovery process did you feel the most uncomfortable? The most excited?