SLP Book Club: Brain on Fire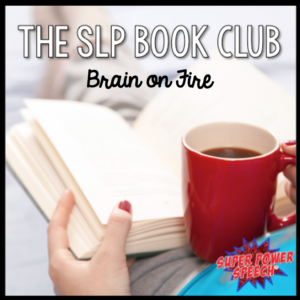 Welcome to the SLP Book Club!  This book club has been my dream and my baby as an SLP and a bibliophile. I am so excited to find others out there that want to explore new books with me and discuss them in the comfort of your jammies and slippers!
Now…Let's get this book party started!
How to participate:
Read my low-downs and questions.
Answer the discussion questions.
Add your own comments or questions.
Disclaimer: Amazon affiliate links included
---
I originally read this book because of my 11-year-old daughter's recommendation. She needed to study the book for her Battle of the Books competition and I thought I would attempt to read along with her.
Author: Susannah Cahalan
Genre: Memoir
Summary:  Susannah's memoir of her rapid lapse into mental illness, search for answers, and recovery process will leave you in awe, horrified and certainly wondering if this could happen to you or a loved one.
Overall rating: 4/5
Quotes to ponder:
"Sometimes, Just when we need them, life wraps metaphors up in little bows for us. When you think all is lost, the things you need the most return unexpectedly."
"To move forward, you have to leave the past behind."
"Someone once asked, 'If you could take it all back, would you?' At the time I didn't know. Now I do. I wouldn't take that terrible experience back for anything in the world. Too much light has come out of my darkness."
Questions (and my answers… please add your answers in the comments):
1 – In what ways did you feel connected to the author and her family?
Susannah's perseverance to continue with her job, and live her "normal life" connected with me. Although she knew that something was wrong and was looking for answers, she did not want to be slowed down by a seemingly temporary condition. As someone who has a never-ending to-do list and is always on the go, I relate to her desire to just keep going. That is until she could no longer do so.
2 – What do you think about the idea that some children originally diagnosed with Autism, may, in fact, have an autoimmune disorder that could be treated?
My immediate reaction to this thought was that it was just another excuse that Autism is curable and a disease. When I considered it more, however, I thought that Autism is not just one thing. It is diagnosed through its symptoms. And if the symptoms of another condition are masking themselves as Autism, then maybe for some people, Autism is "curable".
3 – What are your thoughts about the effects of the author's article (saved lives, made doctor into a hero, etc.)?
Although I appreciate her article and book and know that it has been helpful to many, I found this ending section of the book more boastful than I typically find useful.
In the comments below, please answer the questions with your thoughts. I can't wait to hear your thoughts about this book!