Amazing organization for easy lesson planning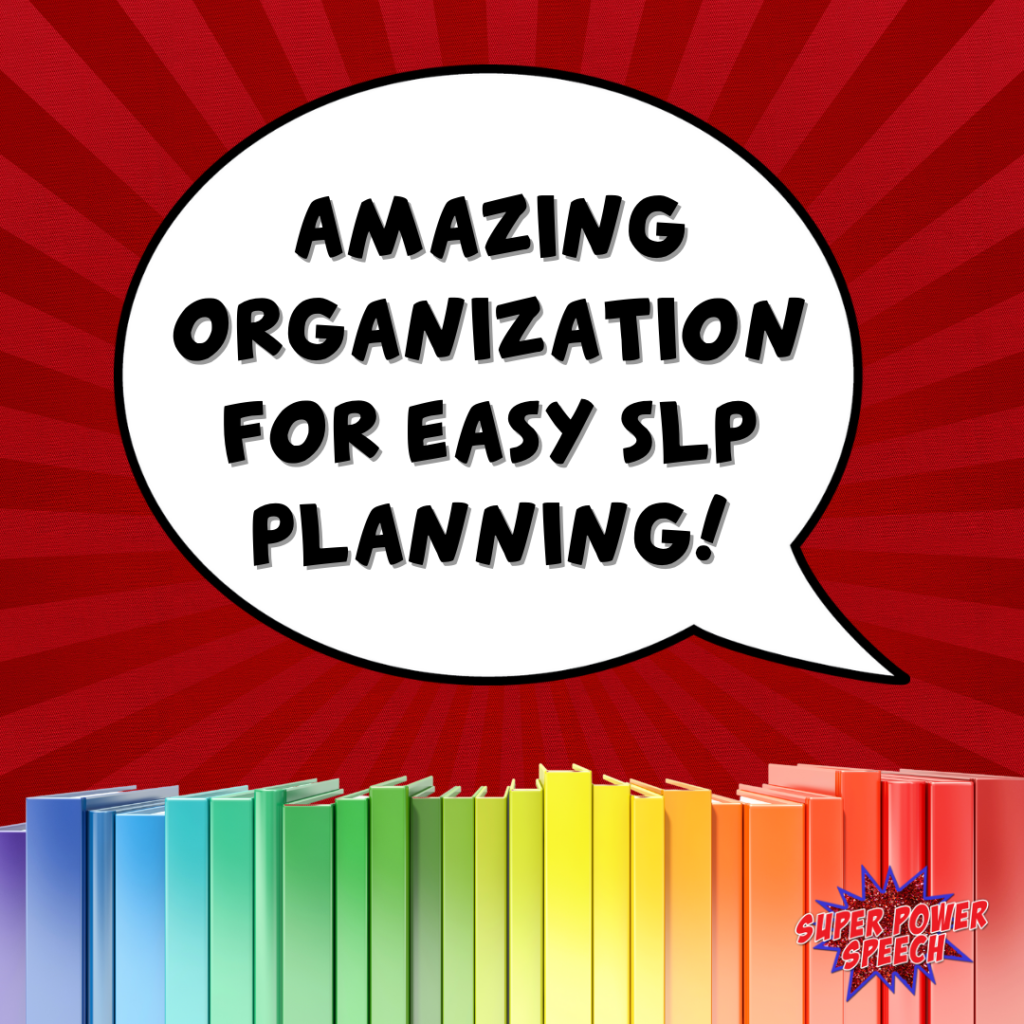 Watch the video above before reading this post 🙂
Years ago, I began lesson planning by the month. Not only does it make my life a whole lot easier, but it provides my SLPA with the structure needed for her groups. This year I've taken lesson planning a step further. I am creating 3 years of rotating plans! By the time this project is complete, I will have a set of lesson plans that I can use over and over for years to come. This makes my little organizational heart sing with glee.
You too, can create an organized arsenal of monthly plans by taking the following steps:
1. Level each student on your caseload.
I use the following levels:
Pre-K: Kids using 2-3 word utterances and very basic language skills
Level 1: Kids with Kindergarten to 1st-grade language skills
Level 2: Kids with 2nd to 3rd-grade language skills
Level 3: Kids with 4th to 5th-grade language skills
Social Skills 1: Kids working on basic social skills (younger materials)
Social Skills 2: Kids with more advanced social skills
Articulation 1: Kids (typically non-readers) working on sounds in words
Articulation 2: Kids (typically readers) working on later sounds in sentences, reading, and conversation
If you need help with leveling, you should consider signing up for my course, The Organized SLP, where I will walk you through the process.
2. Choose 4-8 activities for each level.
Whenever possible, I find materials that work for mixed groups and for several weeks. This helps simplify my planning! If you are feeling stumped, feel free to use my lesson plans.
3. Create file folders for each activity.
Put printouts or samples of the activity in the file folders to help you find what you are looking for in a pinch.
4. Arrange the file folders by level.
Use hanging files to organize activities by level. Once you have your activities arranged in a crate, you are ready to pull them out before each group and go! Easy for you and your SLPA.
If you want to get serious about getting organized, check out my course:
helping school-SLPs take back their weekends!