The SLP Book Club: Down's Syndrome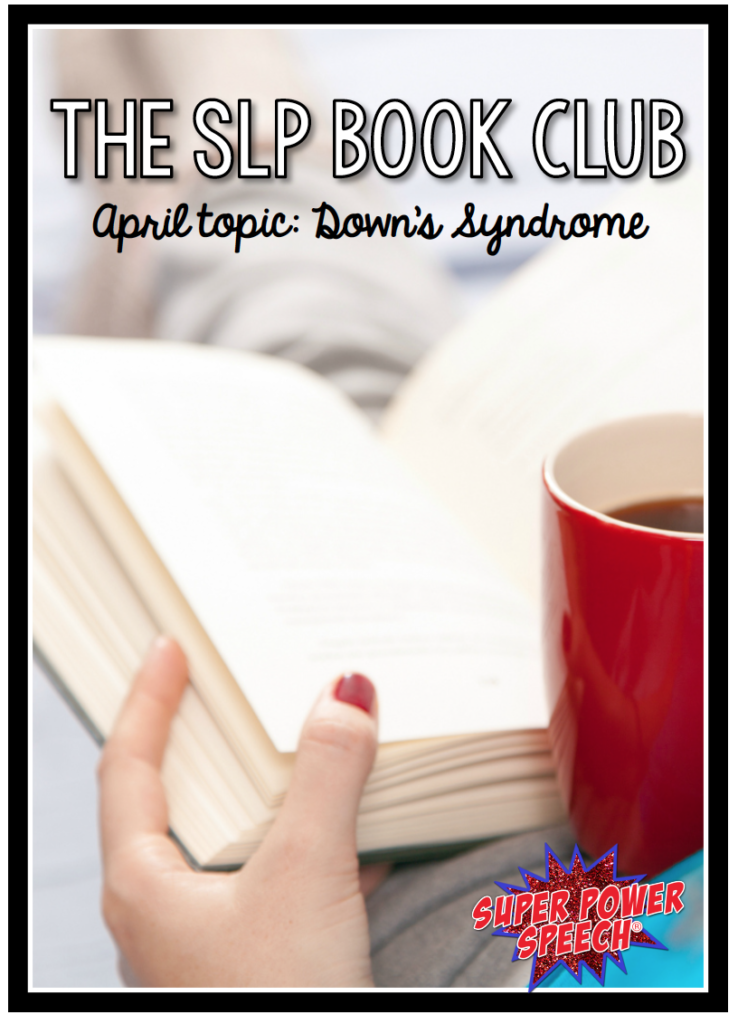 Welcome to the second SLP Book Club!  This book club has been my dream and my baby as an SLP and a bibliophile. I am so excited to find others out there that want to explore new books with me and discuss them in the comfort of your jammies and slippers!
Disclaimer: Amazon affiliate links included
Book 1: Jewel
Author: Bret Lott
Genre: Fiction
The low-down: This novel is initially set in 1940s Mississippi. The book gives us a look into the past and current life of the main character, Jewel, and her family. At several months of age, Jewel's youngest child, Brenda Kay, is not developing as her siblings had. After the family is sent to a specialist who gives Brenda Kay the diagnosis of "Mongolian Idiot". From that point on we witness Jewel change as a character from a wife and mother to many to a devoted caregiver of one. She cajoles her husband into moving cross-country to follow her dream of finding education and help for Brenda Kay. In California, they find a new life.
The bibliophile's review: This book sat with me the wrong way throughout. Much of my queasiness had to do with the time and location of the book: racism, elitism, sexism. In addition, however, I didn't like Jewel as a main character.  I don't know what I would do if I was in Jewel's situation, however, the way that she focused her hatred and dreams so precisely made me want to back away from her. The book was an overall interesting character study, with some hopeful sections regarding education for people with special needs.
The SLP's review: Unlike Jewel, the character of Brenda Kay was very likable. As an SLP, I loved seeing her language slowly evolve over time from single word to multiple word phrases. I adored that she remembered names of people from long ago and could sometimes recognize them in person. Her flirtations with Dennis helped the reader to see her as a grown up, even while her cognitive skills remained at a child's level. I also found the schooling by Mr. White to be very interesting and innovative for the time.
Overall rating: 3/5
Quote to ponder:
What I grieved for was the spark, that undeniable spark behind his eyes, in his eyes, that had gone untapped. I didn't know what that spark meant, didn't know what it might have meant. But it was gone." (page 228)
Discussion questions:
What did you think of Mr. White's teaching methods? In what ways are they similar and different to special education today?
(Not SLP related, but I really want to know what you think!) Why did Leston insist that the family move back to Mississippi? Why did he change his mind again and move back to California?
Book 2: An Uncomplicated Life
Author: Paul Daugherty
Genre: Memoir
The low-down: This sweet memoir is written by a father who obviously adores his daughter. The book chronicles the diagnosis of Down's Syndrome several weeks after Jillian Daughter's birth, through her twenties. She is an exceptional child who is kind, happy, and beloved by all who know her. While Jillian enjoys her way through school and extra curricular activities, her parents stay behind the scenes fighting for more and better opportunities for their only daughter. She develops into an independent, brave, and smart young woman that the reader would really like to know personally.
The bibliophile's review: I really enjoyed this book. It was a very quick read for me. It was inspiring and hopeful to see how full this family's life was because of Jillian. It was inspiring to see any young adult, let alone one with Down's Syndrome, be successful, in love, and independent.
The SLP's review: I have to admit how amazed I was by Jillian's functioning level. Within my school, we have three life skills classrooms for children with severe to profound needs. I have worked with many children with Down's Syndrome over the years, and none have been able to mainstream for more than 30 minutes a day. They are minimally verbal or nonverbal and still working on very basic life skills. I found myself wanting desperately to be Jillian's SLP and work with her, or at the very least get to know her in real life.
Overall rating: 4/5
Quotes to ponder:
"The miracle of an imperfect child is the light she casts on your own imperfections. After a time, she will teach you far more than you will teach her, and you will discover that "normal" comes with a sliding scale." (page 22)

"In later years, as Jillian entered fourth and fifth grades, it wasn't her physical shortcomings that defined and limited her. Jillian never missed a kickball game. her delayed speech created the growing divide between her and her classmates." (page 89)

"Without 47, Jillian isn't Jillian." (page 361)
Discussion questions:
What are your experiences with schools providing the "optimal education" as opposed to a "free and appropriate" education?
What contributes to Jillian's ability to lead an independent life as an adult?
Does Jillian inspire you? If so, how?
Book: The Memory Keeper's Daughter
Author: Kim Edwards
Genre: Fiction
The low-down: This is (luckily) a fictional story about a man who delivers his wife's twins, only to secretly send one of the children away when he realizes that she has been born with Down's Syndrome. The clincher is that he tells his wife that the child had died, not that he had sent her away. The nurse who was tasked to taking the child to a home, instead, informally adopts the child and raises her in another state. The book then chronicles the next 24 years of the lives of all of these characters; including the devastating and occasionally heartwarming results of that one decision.
The bibliophile's review: When I initially read this book, at least five years ago, I loved it. I rated it 5/5 stars and felt that it was well written and very touching. This read through, however, I felt so much more angst. The cruelty of David for making this decision and lying to his wife grated on me throughout. Norah's grief and growth, but also her infidelity were heartbreaking. And the lives of Paul and Phoebe, growing up without each other, were hard to swallow. As an adoptive mother, I could understand Caroline's fears, doubts, and identity in her her adoptive daughter; however, the fact that this "adoption" was never legally finalized and arranged without maternal consent made me nauseous. Overall, I can only recommend this book with serious reservations.
The SLP's review: I loved Phoebe. I loved her character, feelings, emotions, and devotion to her family. I appreciated that the author made her grow up, albeit slower than her brother, and find love and confidence that even her typically functioning brother had not yet experienced. I do wish that Phoebe's character could have been developed even more in this book.
Overall rating: 3/5
Quotes to ponder:
"She thought of the camera, its precise dials and levers. The Memory Keeper, it said on the box, in white italic letters; this, she realized, was why she'd bought it–so he'd capture every moment, so he'd never forget. (page 88)

"Are you sure?" the nurse asked, looking up and meeting her eyes. "Are you really sure you want me to call a doctor?" (page 168)

"He could never know what might have happened… A boy. On the surface, perfect, and a small singing started, deep in his father's brain. A moment later, the second baby. And then his father's singing stopped for good." (page 399)
Discussion questions:
If you were Caroline and were handed a baby with Down's Syndrome in 1964. What would you have done?
How have, or have not, our societal view of children born with differences changed since the 60s.
What do you think about the relationship that could have been between Paul and Phoebe, had they grown up together?
Ready to start discussing? Go!