Traumatic Brain Injury- Evaluating at school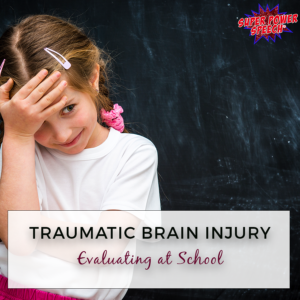 In October, my friend's son "O" experienced a massive head trauma. They had doubts that he would survive. In mid-January, after multiple surgeries and months of rehabilitation, he came home from the hospital. The thought occurred to me after he came home, if this child showed up at my school tomorrow (he lives just a few miles from my school), how would I evaluate him? How would I help O be successful at my school?
Stop. Try this color/word task. Tricky, right? Now imagine doing this same task with a brain injury!
Disabilities resulting from TBI
The information from this blog post was gained from a training Deborah Ettel, PhD (1/21/2016)
Did you know that in the US, 17,000 children/year, like my friend's son, have a TBI. And yet, only 16% of these children are being served in special education. The long term difficulties include:
multiple disabilities
cognitive
school performance
social/adaptive
emotional/behavioral
One reason that children with TBI are not served in the school is because of lack of understanding by school staff and parents as to the long term effects.
Here are some common difficulties resulting from brain injury:
memory
motivation
impulse control
start/stopping
slow processing
fatigue (may be fine at the beginning of the day and exhausted by mid-day)
planning
confabulation (missing pieces from the beginning to end of the event, may fill in the middle with what may have happened)
concrete thinking (abstract concepts are difficult)
And here are some differences between TBI and other disabilities:
sudden onset of disability
families and students are unaccustomed to special education
emotionally trauma has been experienced
change in identify
headaches, sensitivity to light and sound
physical and sensory deficits, hyper/hypo exaggerated stimulation
vision and hearing affected
balance and motor skills affected (college student with a mild TBI has different gait even a year after the injury)
skills must be regained over time
changes in skill levels make the improvements uneven (the need for frequent progress monitoring is crucial)
So how do you evaluate a child with a confirmed or suspected TBI?
Evaluations for TBI
Make sure to check out the fantastic flow chart for evaluating on page 64 of this manual before beginning an evaluation.
All of these evaluation pieces should be considered as part of the evaluation:
File review/background
Medical statement
Psychological Evaluation (memory, attention, abstract thinking, judgement, problem solving, processing)
Motor evaluation (Physical and Occupational Therapy)
Sensory evaluation
Communication evaluation (speech, pragmatic language, abstract understanding of language)
Psychosocial evaluation (behavior)
Pre-injury performance (previous evaluation results, grades, early development, interviews with previous teachers, interviews with parents)
Adaptive performance
Classroom observations
Observations outside of the classroom
Assessments to determine the impact of the TBI
These evaluations may be different from other special education evaluations because they include:
Medical or credible history of event (this is how the Colorado Dept. of Education defines a "credible history")
Must have documentation of pre-injury performance
Testing in different domains: executive function, impulse control, judgement
Testing skills may be better than functioning skills because previous knowledge may be good, whereas the student may have significant difficulties with new learning
Adaptive behavior needs to be measured (this is a great time to look at help from outside of the school)
Social interactions and behaviors must be analyzed
Important accommodations to keep in mind when testing child with a brain injury:
Fatigue: give breaks
Short term memory: one direction at t a time
Gaining/losing skills: monitor and assess frequently
Processing speed: longer response time allowed
Impulse control: pre-teach expectations, re-direct
Over/under-stimulation: quiet setting with lower lighting
Low motivation/initiation: error-less learning tasks, direct instruction, external reinforcement
More Information and Resources
Although O is home-schooled, I will be providing some in-home speech services to O. And with this information and these fantastic resources, I hope to help him make as much progress as possible.
This post is part of a series on brain injuries. Read all the posts in this series here.
How about you? Have you served students that have survived a traumatic brain injury? What evaluation process did your team use to evaluate?