Calming Strategies for Everyone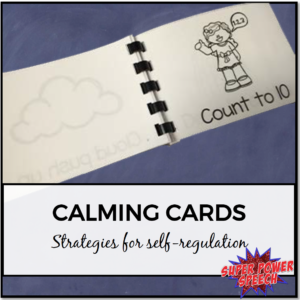 We all know the story. Student gets upset. Student blows out. Student goes to principal's office. Student gets sent home. At the end of the day, everyone is still upset… the student, the teacher, the parent, and the principal. How can we end this cycle?
Although I wish there was a magic wand, what we can do is introduce students to a variety of calming tools. We can teach them how to use the tools and ways to gauge their own levels of frustration throughout the day. We can lead the child to the calming fountain, although we cannot make him/her drink.
To help in this process, I have created a set of free calming cards, intended for children to use when upset, excited, frustrated, or otherwise have too much energy. I recommend that they be cut apart, laminated, and bound or attached with a ring. They can be placed in a child's tool box (see lessons in my Social Skills Curriculum for a Year) or anywhere easily accessible in the classroom. These skills should be practiced on a regular basis so that when they can be used when an "emergency" occurs, just like we do for fire drills.
Email subscribers have access to these cards in the resource library.
⭐️⭐️  SUBSCRIBE HERE for access to my library of free speech materials.⭐️⭐️
I made a video to give you examples of each calming activity. Watch it below or view it on youtube here. Use the video to learn about the strategies, try them on your own, and teach to your students. You can also share the video to parents and other educators who want to use the same strategies.